megabus Promo Code
Current megabus Deals and Discount Codes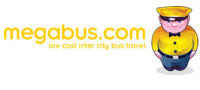 The Scottish coach company megabus is known for its attractive deals and discounts. While there are £1-tickets up for grabs for every route, travelling can be even cheaper thanks to megabus: The bus provider regularly issues a limited amount of free tickets – only a booking fee of 50p needs to be paid. These tickets are usually not only available for bus routes within the UK but also for trips to Europe's top tourist destinations, including Paris, Rome and Berlin.

You have discovered a new megabus deal or promo code?
Tell us about your discovery and share it with other travellers!

Write Comment

megabus: £1 fares on select routes – valid until 17 June
Published on 07 June 2017
megabus is known for its £1 tickets and these are currently available on numerous route for travel from Monday to Thursday. If you were planning a weekend getaway, there's no need to fret: Tickets for trips on Friday, Saturday and Sunday are available from £2 and thus still highly affordable.
The cheap fares are available until 17 June on the following routes (in both directions)
Coventry to Leicester
Coventry to Loughborough
Coventry to Nottingham
Birmingham Airport to Leicester
Birmingham Airport to Loughborough
Birmingham Airport to Nottingham
Leicester to Nottingham
megabus: 1 million £3 fares – subject to availability
Published on 06 June 2017
Travelling with megabus is cheap in general but this summer it's even more affordable: The coach company has recently added one million fares for only £3 (including a 50p booking fee). The cheap tickets can be booked for nearly every megabus route, the only condition being that the trip needs to be booked at least four weeks in advance. You don't need a promo code or anything like it to seal the deals – simply use the CheckMyBus search engine to look for suitable connections and with a bit of luck you'll come across one of the £3 fares.

megabus: Tickets for only £1 on five new routes – valid for travel between 1 and 7 May
Published on 24 April 2017
On 1 May, the coach company megabus will officially launch five new routes. The new bus stops can be found in Chippenham, Bath, Barnstaple, Tiverton, Taunton, Bridgwater, Leicester and Corsham as well as Heathrow and Gatwick airport. In order to celebrate the latest network expansion, every ticket for travel on one of the new services will only be £1 (excluding a 50p booking fee) during the first week of May. But be quick: The attractive offer is subject to availability!

megabus: £5 midweek offer – valid until 25 May 2017
Published on 29 March 2017
If you want to travel during the week, then you should make sure to pick megabus. Thanks to the midweek offer, which is available until 25 May, you can get tickets for only £5 if you travel on a Tuesday, Wednesday or Thursday from 25 April. The offer is perfect if you fancy a shopping trip in London, would like to explore Bath or visit a day on the seaside. Excluded are only trips to and from any destination in Scotland as well as journeys to and from Preston or Lancaster. Midweek offer tickets need to be booked at least one week in advance and are subject to availability.

megabus: Travel between Portsmouth and Oxford via Southampton for £3 – valid until 30 March 2017
Published on 22 February 2017
If you're from Portsmouth and planning a trip to Oxford then you're in luck! The coach company megabus currently offers tickets for only £3, which are valid for trips up until 30 March. The cheap tickets are also available for any trip from Portsmouth to Southampton or Southampton Airport. There's no catch! Simply use our search engine to find all the discounted megabus tickets and book your trip!
Excluded:
16:10 bus from Portsmouth to Oxford on Fridays and Sundays
17:25 bus from Oxford to Portsmouth on Fridays and Sundays
megabus: 20,000 free tickets for trips between 9 January and 9 February 2017
Published on 21 November 2016

Taking the coach is a very affordable way of travelling anyway but between 9 January and 9 February 2017 megabus makes it even cheaper by giving away 20,000 tickets for free. The tickets can be found on selected megabus journeys – simply type in your point of departure and arrival on CheckMyBus and with a bit of luck you will encounter one of the free tickets – only a booking fee of 50p is charged. With more than 90 destinations all over the UK, there's a good connection for everyone, no matter if you want to take a trip to Glasgow for some post-Christmas shopping or whether you fancy sightseeing in London. What's best: even if you can't find a free ticket straight away, there's no reason to despair since megabus new free rides every day. Simply check back every now and then and book your free getaway.

megabus: £1 Mondays on trips between Bristol and Plymouth – valid until 19 December 2016
Published on 14 November 2016
If you want to travel between Bristol and Plymouth and you haven't picked a date yet, then you should try to go on a Monday. The Scottish coach company megabus is currently offering tickets for only £1 (excluding a 50p booking fee) for every trip between these two cities. On this route, megabus also serves bus stops in Exeter, Taunton and Bristol Airport. The offer is valid until 19 December 2016 and you can find all discounted tickets on CheckMyBus.

megabus sale: reduced fares on journeys between London, Nottingham, Leicester and Loughborough
Published on 29 August 2016
Summer time is travel time and in order to make a nice getaway even more affordable, megabus reduced its fares on journeys between London, Nottingham, Leicester and Loughborough. Ticket prices for all of these connections currently start at £1 (excluding a 50p booking fee). As usual, megabus goes with the motto: the early bird catches the worm. This means that the earlier you book your journey between these four cities, the cheaper your ticket will be.

megabus voucher: Participate in the #megadays project and get a £1 coupon code
Published on 04 August 2016
Summer time is holiday time. In order to have a good time, it's not always necessary to leave the UK, which is why megabus has collected the ultimate list of cool stuff to do in the British Isles. However, since such as list is never really complete, the coach company relies on your participation: Simply visit the #megadays website and enter your holiday idea. Afterwards you will automatically receive a £1 voucher, which can be redeemed on any megabus or megabusGold coach. And what's best: Since journeys with megabus start from only £1, this basically means you get a free trip! (Also, you'll automatically participate in their monthly giveaway. Our fingers are crossed!)
megabus: One million £3-tickets for trips through the UK – valid for summer 2016
Published on 20 April 2016
The summer holidays are approaching quickly and in order to make travelling this year extra cheap, the Scottish coach provider megabus has added one million £3 fares (excluding a booking fee of 50 pence). The connections can easily be found with the CheckMyBus search engine and are valid for trips through the whole of the UK with the exception of journeys within Scotland. In total, megabus offers 42 destinations across the United Kingdom including attractive tourist destinations such as London, Manchester, Liverpool, Glasgow, Leeds and Cardiff. The inexpensive tickets are subject to availability and need to be booked at least 4 weeks in advance.

megabus: 50,000 free tickets for trips in Germany, France and Italy – valid until 12 February 2016
Published on 21 January 2016
The winter sales are in full swing and spare no-one, not even the bus industry. In order to allow their customers to travel for little money this winter, the coach company megabus issued 50,000 free tickets for bus routes in Germany, France and Italy. A discount code is not necessary, since the free tickets can easily be found by using the CheckMyBus search. Only a booking fee of a few pence applies. The attractive tickets can, for instance, be found on bus routes between Cologne and Bremen, Florence and Rome, as well as Lyons and Paris. The offer is only valid until 12 February 2016, so don't hestitate and book your free coach trip now.