What to do in London when you're on a budget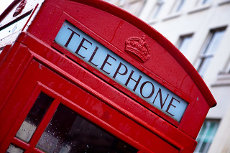 Contrary to expectations, London is a paradise for budget travellers. While accommodations might be on the slightly pricier side, the city offers sheer endless leisure activities that don't cost a single penny. Most of the museum are free anyway and the number of parks and green spaces allows you to have a picnic whenever you fancy one. In addition, most of London's famous sights such as Buckingham Palace, Big Ben or St Paul's Cathedral are no less impressive from the outside than they are from the inside. So take a look at our top picks of free things to do in London and enjoy your stay in one of the liveliest and most iconic cities in the world.
| | |
| --- | --- |
| Culture and Arts | Nature and Leisure |
Getting to London by Coach
Basically, there's no place in the UK from which you can't go to London by coach. National Express, and megabus have established a tightly knit network connecting all the larger and smaller cities with the British capital. And frequently there's cheap bus tickets available, which start at £1. So, grab your kids, hop on a bus and spend a nice day or weekend in London exploring the city's numerous free museums and other sights.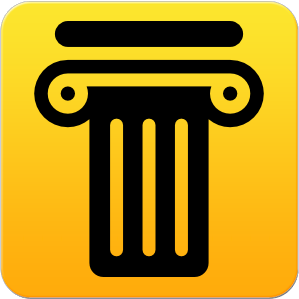 Culture and Arts in London
Natural History Museum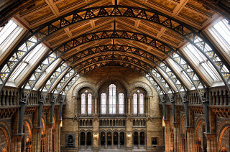 Address: Cromwell Rd, London SW7 5BD
How to get there by underground: South Kensington
Opening Times: 10am – 5.50pm
The Natural History Museum is one of the city's most popular museums and located on Exhibition Road. The collection was originally part of the British Museum until the building reached its capacities and the Natural History section was moved to its current location in Kensington, where it reopened in 1881. The museum features about 8 million items documenting the history of the world. The most iconic exhibits are a life-size replica of a Diplodocus skeleton and the actual skeleton and a parallel model of a blue whale, which stranded at Wexford Bay and had to be kept in storage for 42 years because no room was large enough for it to be put on display. The skeleton was the reason why the Large Mammals Hall had to be built, which is now one of the most popular sections of the museum.
Victoria and Albert Museum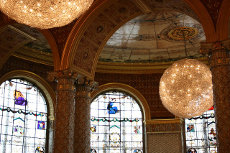 Address: Cromwell Rd, London SW7 2RL, United Kingdom
How to get there by underground: South Kensington
Opening Times: Saturday to Thursday 10am – 5.45pm, Friday 10am – 10pm
The Victoria and Albert Museum was opened in 1857 and features the world's largest collection of decorative arts and design. Travellers, who are fascinated by beautiful things, should definitely take a trip to the V&A. On exhibit is everything from King Henry VIII's writing desk over Leonardo da Vinci's note books and 19th century wedding dresses to pieces of Marie Antoinette's jewellery. Basically you get to experience 5,000 years of arts in a total of 145 individual galleries. Particularly popular are also the museum's special exhibitions, which frequently focus on contemporary branches of decorative arts such as fashion. For instance, a few years ago the museum hosted a very popular exhibition of well-known film costumes and another one featuring iconic pieces by fashion designer Alexander McQueen.
Tate Modern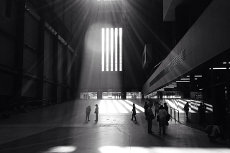 Address: Bankside, London SE1 9TG, United Kingdom
How to get there by underground: the most direct way is Southwark, for a more scenic way there get off at Blackfriars and walk over Millennium Bridge
Opening Times: Sunday to Thursday 10am – 6pm, Friday and Saturday 10am – 10pm
Tate Modern is located in a former Bankside Power Station in Southwark. The museum was opened by the Queen in 2000 and was considered a remarkable success with visitor numbers in its first year exceeding all expectations. Ever since, Tate Modern is one of London's most frequently visited museums. The collection includes pieces of art from 1900 to today and features pieces of well-known modern and contemporary artists such as Picasso, Dalí, Lichtenstein, Warhol, Beuys and Rothko. Tate Modern can also be regarded a family friendly gallery with lots of fun activities and interactive learning stations available, which are specifically targeted at a younger audience.
National Gallery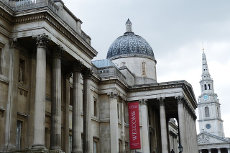 Address: Trafalgar Square, London WC2N 5DN
How to get there by underground: Charing Cross, or bus directly to Trafalgar Square
Opening Times: Saturday to Thursday 10am – 6pm, Friday 10am – 9pm
When you're in London you cannot miss the National Gallery since it's located right in Trafalgar Square. Contrary to common custom, the museum does not take its roots in a royal collection but in a stash of paintings purchased by the British government in the early 19th century. The museum was founded in 1824 and features paintings from the mid-13th century until 1900. Some of the most famous pieces of art include Velázquez's Rokeby Venus, Holbein the Younger's Ambassadors, Van Eyck's Arnolfini Portrait and Turner's The Fighting Temeraire.
National Portrait Gallery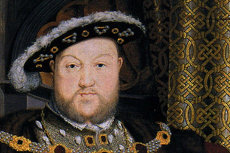 Address: St. Martin's Pl, London WC2H 0HE
How to get there by underground: Charing Cross, Leicester Square or bus directly to Trafalgar Square
Opening Times: Saturday to Wednesday 10am – 6pm, Thursday and Friday 10am – 9pm
Usually when you go to an art gallery you go there for the artists – in the National Portrait Gallery, however, it's also about the depicted persons. The gallery was opened in 1956 as the world's first portrait gallery and has been popular with visitors ever since. It is located right off Trafalgar Square at St Martin's Place. Some of the most famous pieces of art include the Chandos painting or William Shakespeare or portraits of Queen Elizabeth I and King Henry VIII. However, the gallery also pays tribute to more recent British celebrities. Portraits, sculptures and photos of William and Kate as well as "Harry Potter" creator J. K. Rowling can be found here as well.
British Museum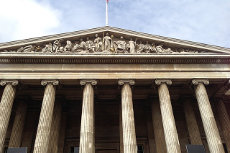 Address: Great Russell St, London WC1B 3DG
How to get there by underground: Holborn, Tottenham Court Road, Russell Square, Goodge Street
Opening Times: Saturday to Thursday 10am – 5.30pm, Friday 10am – 8.30pm
With nearly 7 million visitors per year, the British Museum is clearly the UK's most frequently visited museum. It opened as early as 1759 and is based on the private collection of Sir Hans Sloane. Nowadays, the collection focusing on human history, culture and art features about 8 million items with only approximately one per cent being on display. The building itself is considered a piece of art thanks to its Greek temple style portico and the Great Court with its iconic glass roof, which is Europe's largest covered square. Some of the museums most important pieces are the Rosetta Stone, its collection of Egyptian mummies and the Mausoleum at Halicarnassus, which is one of the Seven Wonders of the Ancient World.
Science Museum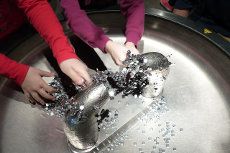 Address: Exhibition Rd, London SW7 2DD
How to get there by underground: South Kensington, or bus to Victoria and Albert Museum
Opening Times: 10am – 6pm
The Science Museum is located on Exhibition Road in South Kensington and was founded in 1857. The museum is particularly popular with kids because it features a wide variety of interactive exhibits allowing them to do quizzes or to discover the laws of physics in a fun way. The museum's more than 300,000 items on display feature the oldest surviving steam locomotive, the first jet engine and an Apollo spacecraft. The museum also covers medical history and everything that is connected to the Information Age: You can see old and new gaming consoles and a TV broadcast of the Queen's coronation. The Queen, by the way, also sent her very first tweet from the Science Museum.
Museum of London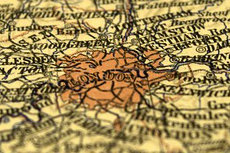 Address: 150 London Wall, London EC2Y 5HN
How to get there by underground: Barbican or St Paul's
Opening Times: 10am – 6pm
The Museum of London tells the history of the city, from its prehistoric origins to the modern metropolis it is nowadays. The museum is close to the Barbican and opened in 1976. It currently attracts more than one million visitors per year who can enjoy a stroll over the "Victorian Walk" with redesigned shop fronts from the 19th century or discover how it was like to live in London during the Blitz. The museum also makes sure to pay tribute to more recent influences on London life such as popular BBC programmes or fashion by famous UK designers such as Mary Quant and Alexander McQueen.
Imperial War Museum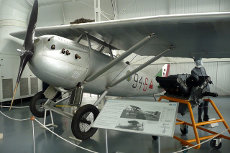 Address: Lambeth Rd, London SE1 6HZ
How to get there by underground: Lambeth North or Elephant & Castle
Opening Times: 10am – 6pm
The Imperial War Museum was founded in 1917 and opened in 1920. While it was originally created to document British efforts in WW I, its scope was soon expanded to include more aspects of war and more recent political crises. The museum features a vast amount of ships and airplanes as well as the national collection of modern firearms including Winston Churchill's pistol. Galleries range from women's war work to the documentation of family life in times of war all the way to the Holocaust Exhibition and the Secret War gallery informing visitors about the world of espionage and everything that goes on behind closed doors.
Angel Comedy Club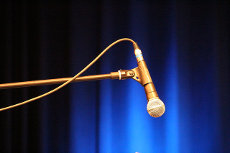 Address: 2 Camden Passage, London N1 8DY
How to get there by underground: Angel or bus to Islington Green
Opening Times: every day of the week, shows usually start at 8pm
Time Out claims that Angel Comedy Club is actually the best free comedy in London. From open-mic nights to well-established comedians – the stage at Angel Comedy is open seven nights a week. The principle is easy: First come, first served. So make sure to head there early and to find a good spot above the Camden Head Pub. Shows usually start around 8 pm. A good laugh is guaranteed!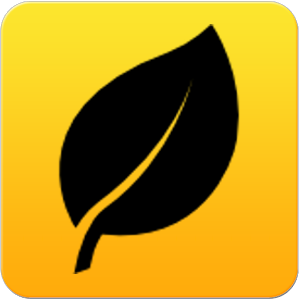 Nature and Leisure in London
Hyde Park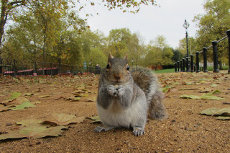 How to get there by underground: Marble Arch, Hyde Park Corner, Knightsbridge, Queensway, Lancaster Gate
Opening Hours: 5am – 12am
Hyde Park is one of London's most popular leisure spots. It is a massive green space which was originally created by King Henry VIII in 1536. While he used it as his private hunting ground, it was opened to the public in 1637 by Charles I. Hyde Park is good to go horse-riding, running or to have a nice picnic. Always worth a visit is Speakers' Corner, where everyone is free to speak their minds and where important historical demonstrations have taken place. Hyde Park is also frequently used as concert venue or event space, for instance in winter, when the annual Winter Wonderland is set up.
Diana Princess of Wales Memorial Walk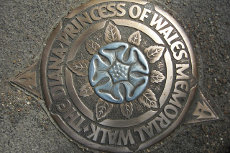 The Diana Princess of Wales Memorial Walk is an 11 km long walking trail which leads through Kensington Gardens, Hyde Park, Green Park and St James's Park. It passes the five palaces and mansions which are associated with the princess's life, namely Kensington Palace, Buckingham Palace, Clarence House, St James's Palace and Spencer House. The route is marked by 90 plagues set in the ground and embellished with a rose. Apart from the impressive houses and palaces, the walk also passes famous sights such as the Albert Memorial or the Mall.
Covent Garden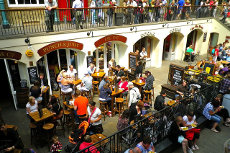 Address: Covent Garden, London WC2E 8LU
How to get there by underground: Covent Garden
Covent Garden is a lively area in London's West End. The main square was formerly used as a fruit-and-vegetable market and has featured street performances since the mid-17th century (at least). This tradition still continues, which is why Covent Garden is always a good place to go. You can find the Theatre Royal, Drury Lane, here as well as the Royal Opera House. But the piazza's main attraction is its shops and street life. You have vendors selling souvenirs for tourists and homemade street food next to high end fashion and make-up boutiques. All in all, a trip to Covent Garden is fun for the whole family – be it to watch street artists, to have a bite to eat at Jamie Oliver's Italian Restaurant or just to do some window shopping.
Borough Market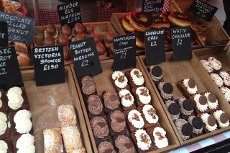 Address: Borough High St, London SE1 9AH
How to get there by underground: London Bridge
Opening Hours: 10am – 5pm
Borough Market is one London's most traditional street markets. It is claimed that the origins of the current market date back more than 1,000 years. Nowadays, the vendors focus on specialty food. Basically, you can get anything from Spanish chorizo over French macarons to vegan street food. While you have to pay for full portions, you might be lucky and get a few tasters for free. Even when not eating, it's always fun to stroll through Borough Market and to take a look at the beautiful colours of fresh fruit and spices or the extensive selection of international beers.
Greenwich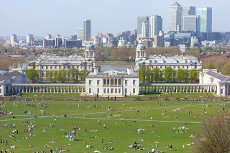 How to get there by underground/Docklands Light Railway: Take the DLR to Greenwich or Cutty Sark for Maritime Greenwich
There's so many things to do and discover in Greenwich that a day is not even enough. You can explore the royal side of Greenwich with a trip to the Palace of Placentia, which is the birthplace of numerous Tudor kings and queens. The green side of Greenwich can be discovered when going to Greenwich Park, which offers a lovely view over London's Docklands. The most famous part of the Borough, however, is Maritime Greenwich. You can go and visit the Royal Observatory and stand on the Prime Meridian – also called Greenwich Meridian – or tour the Old Royal Naval College, which was designed by Sir Christopher Wren. Also make sure to see the Cutty Sark, which can be found on the River Thames and which is one of the last tea clippers. The ship was built in 1869. With so many things to do and see, it is no wonder that Maritime Greenwich is ranked as a World Heritage Site by the UNESCO and that the Borough of Greenwich was the fourth Borough in London to receive the official title "Royal Borough".
Southbank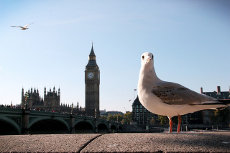 How to get there by underground: London Bridge or Southwark, you can also pick one of the stops on the north bank of the Thames and walk over one of the bridges
Southbank is one of the most popular parts of London because it offers numerous attractions. We highly recommend you take a walk along the River Thames instead of hopping onto one of the tourist buses. You can start your tour in front of London Eye and then make your way eastward, where you will pass the National Theatre, Shakespeare's Globe Theatre, Tate Modern, Millennium Bridge, Southwark Cathedral, the HMS Belfast and City Hall. There's also a skate park and numerous street performers or food trucks which will make your stay even more enjoyable. Throughout the year, the Southbank also hosts many events such as regular markets or a German Christmas Market during holiday season.
Camden Market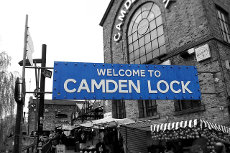 Address: Camden High Street and Chalk Farm Road, London NW1 7BX
How to get there by underground: Camden Town (Attention: To avoid overcrowing, Camden Town Underground Station is exit-only on Sundays between 1pm and 5.30pm. Nearby stations Mornington Crescent, Chalk Farm or Kentish Town stations have to be used for return journeys.)
With more than 100,000 visitors per weekend, Camden Market is London's fourth most popular tourist attraction. The area around Camden Town tube station is divided into six distinct markets, which offer a variety of bric-a-brac, clothing, jewellery and handicraft as well as street food. There's many unique stores lining the streets specializing in punk and gothic couture which is why Camden Lock is particularly popular with the younger generation. A trip there is certainly worth your while because there's always something to see. If you have enough of the busy market, then you can take a walk along Regent's Canal or walk towards London Zoo.
Visit Famous Film and TV Locations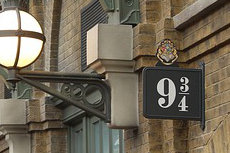 The British capital has served as setting for numerous movies and TV shows, so a tour of some of the most iconic film sets is highly recommended. If you're a fan of chick flicks, you should make your way to Notting Hill in order to see the famous blue door of the eponymous film. For fans of action and superhero movies a trip to Greenwich is recommended, which features prominently in "Thor: The Dark World". If one of your favourite pastime activities is to bingewatch the BBC's "Sherlock", then go to Speedy's Café in North Gower Street. For everyone loving "Harry Potter" a trip to St. Pancras to see platform 9 ¾ or to the Australia House on Strand, which was used as model for Gringotts, should make you happy. And if, in your opinion, nobody compares to James Bond, well then… basically every quarter of London will be familiar to you.
Crystal Palace Park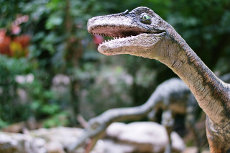 Address: Thicket Rd, London SE19 2GA
How to get there by train: Crystal Palace, or bus to Crystal Palace Park Thicket Road
Opening Times: Monday to Friday 7.30am – 7pm, Saturday and Sunday 9am – 7pm
Crystal Palace Park is located in the south-east of London. It is named after the Crystal Palace, which housed the Great Exhibition in 1851 and was originally placed in Hyde Park but later reconstructed in Crystal Palace Park before it burned down in 1936. The park is basically a Victorian leisure ground and it features everything from a lake to nice picnic spots a concert bowl and even a large Victorian maze. One of the main features of the park are life-size dinosaur models, which were designed by Benjamin Waterhouse Hawkins in the mid-19th century. They were commissioned as a tribute to the only recently discovered dinosaurs and other distinct species.
Richmond Park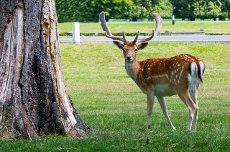 How to get there by underground: Richmond
Opening Times: 7am – 7.45pm
Because of a plague outbreak in the 17th century, King Charles I was forced to relocate his court to Richmond Palace. In order to provide for entertainment during isolation, he made Richmond Park an official deer park. Until today, the park is well-known for its important role in wildlife conservation and it is home to about 630 red and fallow deer. Apart from its rich wildlife, the park also provides for plenty of leisure activities: there's three rugby pitches, cycles for hire, a golf course and you can also go fishing by paid permit. All in all, the park, which is about three times the size of New York's Central Park, is popular with visitors and Londoner's alike.
Mudchute Farm and Park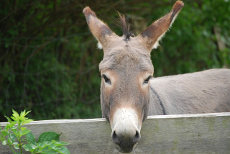 Address: Pier Street, Isle of Dogs, London E14 3HP
How to get there by DLR: Mudchute, Crossharbour and Island Gardens
Opening Times: 9am – 5pm (farm)
Mudchute Farm and Park is an operating farm located south of Canary Wharf. The farm is home to about 100 animals, ranging from cows over sheep, donkeys and chickens all the way to alpacas. Children have the opportunity to learn a bit more about farm life and to get cuddly with some of the animals in the pet's corner. All in all, there's about 32 acres to explore and lots of things to learn about animals, be it a rare breed or a common chicken.
Portobello Road Market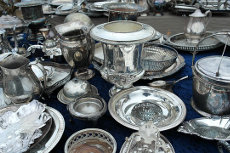 Address: Portobello Road, London W11 2EA
How to get there by underground: Notting Hill Gate, Ladbroke Grove, Westbourne Park
Opening Times: Monday to Wednesday 9am – 6pm, Thursday 9am – 1pm, Friday and Saturday 9am – 7pm
Portobello Road Market in popular Notting Hill started off as a market for fruit and vegetables in the 19th century. However, in the mid-20th century antique traders came along and revolutionized the market. Today, Portobello Road's antique market, which takes place every Saturday, is the UK's largest one of its kind. You can stroll along Portobello Road and discover some hidden gems, get a new fancy piece of furniture or simply marvel at vintage jewellery. Should you be a bit hungry, then there's several food stalls serving delicious drinks and lovely street food along the way.