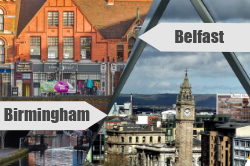 It's March, which means that spring is just around the corner. As it begins to slowly get warmer outside, it becomes much easier to think about the perfect place to get away for a weekend holiday. Halfway through the month is Saint Patrick's Day and cities throughout the UK make the holiday a momentous occasion with colourful festivals, dancers and live music. While London is no slouch when it comes to this time of year, Birmingham takes the lead as the home of the country's biggest Saint Patrick's Day parade, and the third largest in the world, behind only New York and Dublin. Belfast, in Northern Ireland, is also renowned for its parade, concert and events during the holiday, and both are well worth a visit.
Travelling Between Birmingham and Belfast
Despite being separated by the Irish Sea, Birmingham and Belfast can be reached relatively easily by one another by coach, with companies, such as National Express offering regular connections.

Bus from Birmingham to Belfast, National Express, from £22.64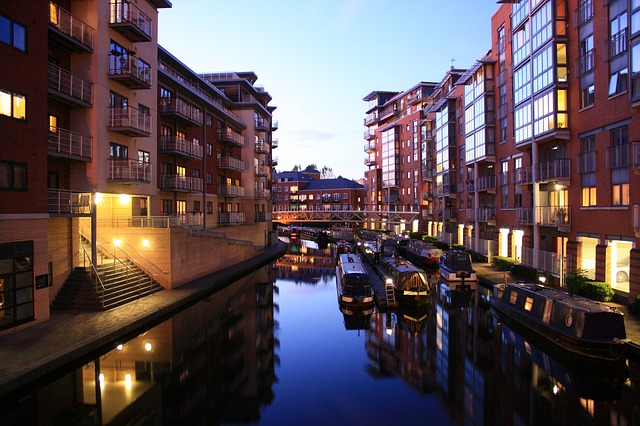 See the UK's Largest Saint Patrick's Parade in Birmingham
Birmingham's annual St Patrick's Day parade is scheduled to take place on Sunday, March 11. With at least 60 floats and over 1,000 marchers, this year's festival may even surpass last year's, which attracted nearly 100,000 spectators. This year, the day of the parade coincides with Mother's Day so the year's theme will honour Birmingham and Ireland's most iconic women. Visitors can experience an array of cultures with Welsh and Chinese dragons parading side by side, Caribbean dancers and of course a selection of food to reflect this. Children can engage in a variety of activities, including face painting, arts and crafts, free dance and music workshops and even a petting zoo. Those looking to get in shape for the new season can take part in the Emerald Mile, where participants run the length of the parade route in festive garb and can even earn a complimentary shirt for participating. At the end of the parade, traditional pipe bands join together for a spectacular finale.
Whether visitors are waiting for the festival to begin or are looking for something to do after, the city of Birmingham offers more than enough to enjoy. At the top of any chocolate lover's list should be the Cadbury World Chocolate Museum where the famous brand was founded. Featuring a 4D cinema experience, a tour led by a professional actor portraying John Cadbury, and perhaps most importantly, the world's largest Cadbury shop, a visit is sure to be a real treat for the taste buds. Other must visits include the city's impressive Symphony Hall, the National Sea Life Centre and the Shakespeare Express, a beautiful vintage train that travels between Birmingham and Stratford-upon-Avon, the home of the famous poet.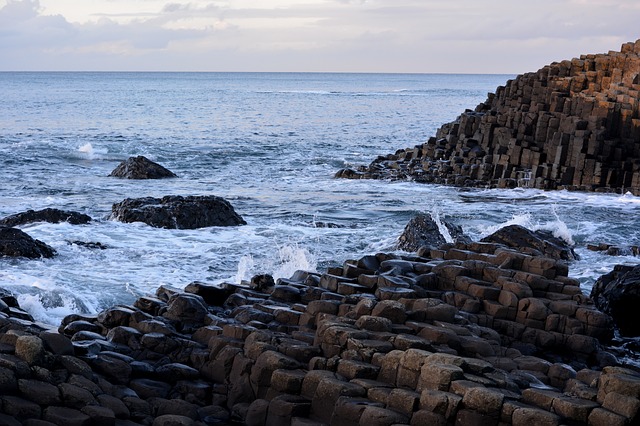 Enjoy A Range of Musical Talent and Natural Beauty in Belfast
Belfast's Saint Patrick's Day festivities might not quite reach the same scope as Birmingham's or Dublin's, but it's certainly impressive in its own right and can make the perfect stop for people looking to travel between the two. The city's annual parade is a melting pot of diverse cultural and community societies, volunteer organisations, parent groups and individual performers. After the parade, a free concert will start from 1:30 PM at the Custom House Square, featuring a list of talented performers such as this year's headliner, Aston Merrygold, who was a member of the band JLS, SlideStep, an award-winning Irish dancing group that blends traditional and contemporary styles and many local musicians as well.
Nearby Colin Glen Park is also hosting its own outdoor events for the holiday, including the Gruffalo Trail and Fairy Village on Saturday 17 March. People starving for some outdoor action after a long winter can take part in a range of activities, like zip lining, climbing, laser tag and archery. The city of Belfast and its surrounding area also offer year-round fun for visitors and locals to enjoy, whether it be tours of Titanic Studios, where Game of Thrones was filmed or the natural wonder of the Giant's Causeway. Taking in the city and its surrounding scenery, it's no wonder that the region is considered one of the world's best destinations for travel.
Share this post: