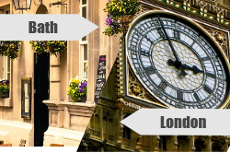 From big city hustle to small town charm, the UK is truly a magical place to be during the holiday season. The Christmas spirit runs throughout the entire country, and it's very difficult to go wrong when choosing the best destination for Christmas this year, but we do recommend Bath and London for the perfect holiday trip. Both cities offer plenty of festivities to enjoy throughout the month of December, while maintaining completely different atmospheres. Bath offers the cozy ambiance of a small city while London's bustling energy and endless shopping options creates a holiday experience like no other.
Travelling between Bath and London
Less than three hours apart, both Bath and London are easily accessible from the other. Coach providers, such as megabus and National Express offer plenty of connections each day to make travelling between the two cities extremely convenient and flexible to your schedule.

Bus from Manchester to Liverpool, National Express, from £2.00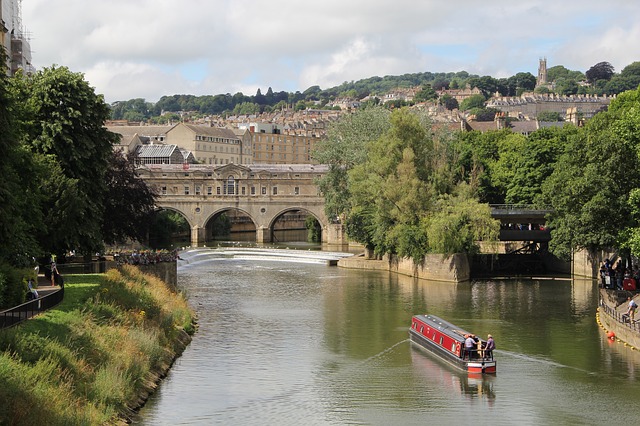 A cozy winter holiday in Bath
One of the UK's most beautiful cities is also one of the best to visit during the holiday season, featuring one of the country's best Christmas markets along with a slew of events and activities. Longleat's Festival of Light will celebrate the season with glittering Chinese lanterns and lights with a fairytale twist. The event will feature Snow White, Rapunzel's tower and the evil witch's Ginger Bread Cottage from Hansel and Gretel. Go to Royal Victoria Park for some quality ice-skating, and stick around once the sun sets for some glow in the dark golf. Feeling crafty? Visit the American Museum for some festive arts and crafts to bring home one-of-a-kind handmade gifts.
Bath's High Street is one of the best spots for shopping, and is even promising a white Christmas with real snow decorating the street throughout the month. The Bath Vintage and Antiques Market is the perfect place to go if you fancy something a bit old fashioned, with nearly 60 quality traders all gathered at the historic Green Park Station. The city's award-winning Christmas market is one of its highlights, with over 200 decorated stands and plenty of hand-made products, most of which, were made in the UK.
Once you've finally built up an appetite, you can feast like a king at the Roman Baths with a five-course meal or stop by the Terrace for a candlelit dinner. The Kingsmead Square Festive Street Food Market offers plenty of unique choices, such as crispy chili squid, Valencian paella and Alpine-style mac and cheese. For more of an Alpine feel, the Après Ski Bar at Abbey Hotel undergoes a Bavarian makeover to transport you to a snow-capped ski-lodge, and sells mulled wine, a popular treat in Germany. The Chapel Arts Centre offers long tables full of breads, cheeses and wines.
There's also plenty for children to enjoy, such as a showing of Raymond Briggs' "The Snowman" and "The Bear" accompanied by live music from the talented Bath Philharmonia. To match the fairytale theme of the Festival of Light, a special stage production of "Snow White and the Seven Dwarves" will feature the famous Harriet Thorpe as the evil queen for a memorable performance both children and adults can appreciate. For some real seasonal magic, be sure to take the Santa Special Steam Train Ride at Bitton Station with views of the Avon Valley, mince-pies and even a visit and special gift from Santa.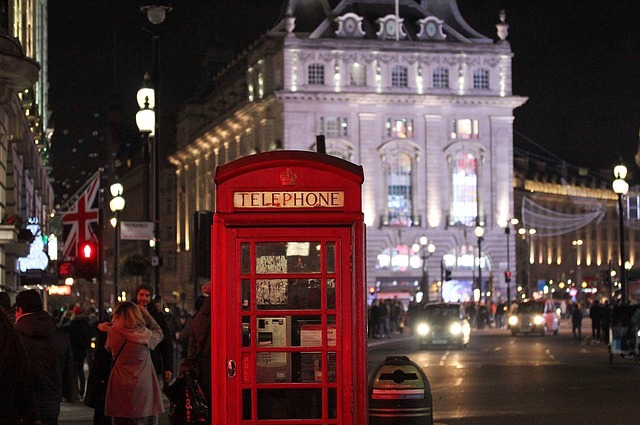 Christmas time in the city of London
Thoughts of Charles Dickens' Christmas Carol, beautiful decorations and prime shopping may spring to mind when thinking about London in December. Whether it be the snowflake inspired lights of Oxford Street, Carnaby's memorable light display, Bond Street's unique peacock feather lights or Covent Garden's dazzling chandeliers entwined with mistletoe, for this month, London may even steal the title of city of lights from Paris. It's a real spectacle to behold. Whether it be shopping, ice-skating, stopping for a seasonal meal or just strolling along the decorated streets and taking in the vibe of the city, London is one of the best places to be for Christmas.
Enjoy a fine three-course dinner show with the Vaults' Beauty and the Feast for more fairy-tale inspired cheer. Jimmy's Winter Lodge also offers plenty of opportunities for delicious treats, such as fondue or mulled wine and cider. For a distinct holiday experience, you can even enjoy your meal in one of the outdoor snow globes. For an authentic London experience, be sure to visit one of the many pubs, such as the Harlequin, which is fully decked out in garlands, wreaths and ornaments.
If you're looking to get some Christmas shopping done, London offers an overwhelming number of options. Covent Garden, is perhaps the most festive place you can go in the city, with one of London's largest Christmas trees, and is adorned from top to bottom in intricate decorations. The shops offer plenty of familiar brands, and toy stores for general shopping. Oxford and Regent Street are an ideal option for more upscale shopping, being home to over 75 international flagship shops, including the Apple Store, Banana Republic and Hamley's toy store. Of course, Harrods is one of the most famous shopping venues in the city, and is a wonderful place to go, even just for window-shopping. To celebrate the season, Harrods will be covered in over 11,000 Christmas lights as well as a score of other ornamentations. Carnaby street is another trendy option for people interested in the latest fashion trends and brands.
Perhaps one of the city's biggest winter events, the Winter Wonderland in Hyde Park features plenty of activities, rides and events throughout the month of December. Admission is completely free, and events include ice skating, the ice mountain roller coaster, or the Ferris wheel to take in all the surrounding lights. The event also features a massive Christmas market, with plenty of German sausages, traditional glühwein and a Bavarian village accompanied by an oompah band. Younger children can stop by Santa Land for age-appropriate rides and a chance to take a photo with Santa. Other key attractions include the sculptures of the Magical Ice Kingdom, the Imperial Ice Stars show, and the Carousel Bar.
Share this post: