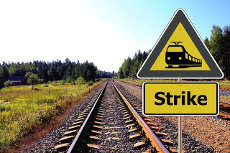 2017 was a very difficult year for the British rail industry. Disputes over pay and job security have resulted in rail worker strikes all over the country, causing countless disruptions and delays for passengers. To make matters worse, British Rail Prices will rise 3.4 percent in 2018, which is the highest increase in five years. Unfortunately, the trend will continue into the new year amidst stagnant wages for many, an inflated economy and increased levels of customer dissatisfaction.
Rail Strikes: January, 2018
Rail strikes have created a challenging time during the holiday season, and more are already planned for 2018, with rail lines all over the country being affected throughout the month of January. From Virgin Trains, an estimated 1800 workers were expected to participate in the strikes, which included train managers, on-board catering staff as well as clerical workers. However, by the end of December, the general secretary of the RMT rail union reached a deal with Virgin Trains for its members, resulting in the cancellation of its members proposed strike dates. Still, the rail line has advised passengers to keep the strike dates in mind in case conditions change to prompt the original walk-outs.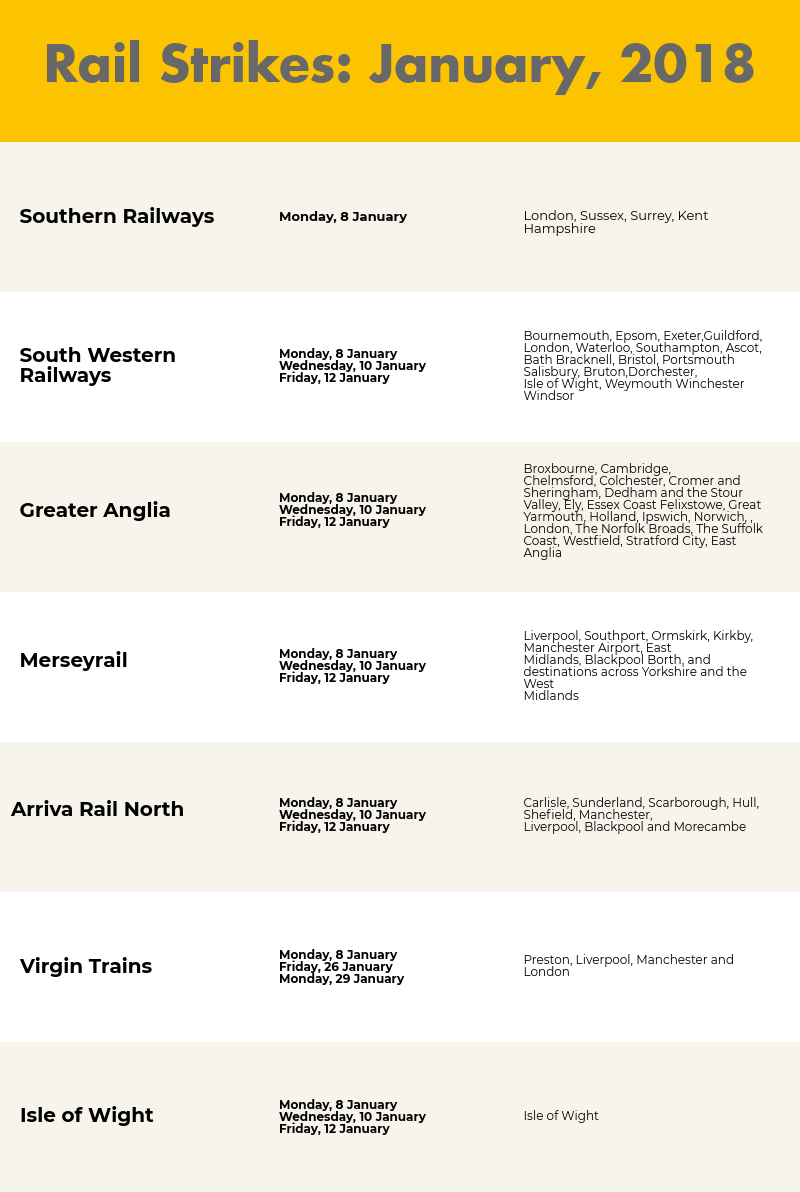 Most of the strikes have been the result of a long-standing issue regarding the roles of guards on the trains and automated doors. The RMT rail union has been a major organising factor behind the strikes. The British government has been trying to settle the issue by guaranteeing conductors employment beyond 2025 on the condition that they end the disputes.
Travelling Around the Strikes
In many cases, passengers who have had their rail trips cancelled or delayed by at least 15 minutes, will be entitled to compensation. To make a claim, passengers will need to visit the website of the train operator displayed on the purchased ticket. Unfortunately, not all companies will take part in the Delay Repay scheme, so some passengers will not be able to receive a refund for delays.
When there is so much uncertainty around the railways, it's important to rethink your daily commute and plan trips and holidays in advance. Fortunately, coach providers, such as National Express and megabus UK, have been providing a steadier and more affordable alternative for long distance travel across the country. Last year, National Express had pledged to increase its fleet's carrying capacity to accommodate passengers who have been displaced by the rail strikes.
Share this post: