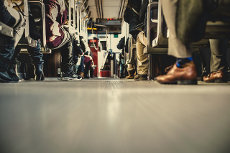 For travellers living in the UK, not having the coach as a cheaper alternative to the train is something that is unimaginable. Ever since the first motorcoaches were launched, they could not only be used to travel within a city but also to travel from Aberdeen to London or from Cardiff to Manchester. In other parts of Europe, however, this is not the case. There are strict laws prohibiting coaches from offering bus routes whenever there's a suitable train connection in place.
A Look at Some Select Coach Markets in Continental Europe
Nevertheless, times are changing and continental Europe is ever more opening up to the idea of cheap travel alternatives. Therefore, it's time to take a closer look at the European coach market.
Coach Market in Germany

Because the Deutsche Bahn is a company which is subsidized by the government, coach connections between two cities have been prohibited for a long time. In 2013, this changed: the market for coach travel was liberalised and a vast number of coach companies were founded to compete for the young market. While many of them – including the UK companies city2city (subsidiary of National Express) and megabus – stopped operating services because of the heated competition, some of the coach companies could affirm their position. The most popular and successful one is FlixBus with more than 80 per cent market share in Germany.
Coach Market in France

France followed suit in summer 2015 and deregulated its coach market. While the Deutsche Bahn, Germany's main railway company, took a long time to realize that the inexpensive coaches actually meant competition, the French railway company SNCF reacted quickly and launched their very own coach company, named OUIBUS. While they secured a large part of the market this way, the competition came less from France itself but from Germany: FlixBus, the German market leader, founded a French subsidiary enabling the company to operate a national coach network in France. Right now, it's basically a head-to-head race between OUIBUS and FlixBus.
Coach Market in Switzerland

Switzerland is one of the few countries still strictly regulating its coach market. No foreign company is allowed to transport goods or passengers within Switzerland. While this sounds like a fairly straightforward rule, its execution is a bit more tricky than it seems: FlixBus, for example, operates international routes from Germany via Switzerland to France. While Swiss travellers can buy a ticket from Switzerland to France or Germany, they cannot buy tickets for journeys between two Swiss cities on the route. However, as train tickets are very expensive in Switzerland, many travellers simply book a journey from Zurich to Lyons, for instance, but actually get off in Basel. Swiss authorities are aware of the problem and are already investigating in how far FlixBus violates the law but FlixBus claims that customers cannot be held hostage on board of a coach and if they want to get off, then they should be allowed to. In order to avoid going to court for this, FlixBus is currently considering the launch of a Swiss subsidiary. This way, the company would be allowed to transport passengers from city to city. However, there's many obstacles attached to this: For instance, the company would have to pay its employees Swiss salaries, which are significantly higher than German ones. This might result in more expensive tickets and therefore less customers.
It remains to be seen how the European coach market will develop in the future and how and if it will affect the United Kingdom but recent market deregulations have generally lead to cheaper travel alternatives. So, should you be planning a Eurotrip, then also consider taking the bus. Good cross-border connections from Germany to France or from Austria to Poland can often be booked for less than £20.
Share this post: