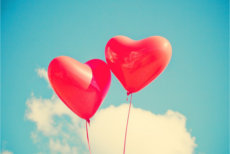 Valentine's Day is just around the corner and it's time to make plans. While many couples opt for the comfortable alternative which consists in staying at home, ordering take out and watching a chick flick on Netflix, we recommend making on-screen romance reality by visiting the most romantic film and TV locations. If you want to follow in the steps of famous couples this year, then check out our top picks for screen-themed Valentine's Day coach trips.

Top Film- and TV-Inspired Valentine's Day Destinations
1. London

Countless movies have been shot in the British capital, which is why London is any film fan's top destination all year round. For Valentine's Day, in particular, we recommend starting the day with a trip on the London Eye, which provides special offers for couples in love. This year, the London Eye's Valentine's weekend is under the motto "Love is All Around", which sets the tune for the next stop, the rom-com movie tour. This guided tour around London can be booked for about £54 for two persons and takes you to famous movie sets, including the church from "Love, Actually". In addition, you will also be taken to Bridget Jones's neighbourhood and to the famous blue door, which features in the film "Notting Hill".
Cheap bus connections to London:
Brighton ↔ London, National Express, from £5
Liverpool ↔ London, megabus , from £6.18

2. Highclere Castle

While Highclere Castle might not be a household name, Downton Abbey certainly is. Large parts of the award winning ITV drama have been shot in and around Highclere Castle in Hampshire. Although the estate is usually closed at this time of the year, the Earl and Countess of Carnarvon make an exception on 13 February. Visitors have the chance to enjoy Champagne and Canapés in the same rooms, in which Mary, Matthew and the other Crawleys dealt with the problems of the English high society. Should you not be able to get your hands on one of the tickets, then just surprise your Significant Other with a ticket to Downton during the annual summer opening period.
Cheap bus connections to Basingstoke:
London ↔ Basingstoke, National Express, from £10
Bournemouth ↔ Basingstoke, National Express, from £10.80

3. Paris

When you're in Paris, you don't really need a tour around movie sets since all of the city featured in one film or another. For instance, you can walk over the Pont des Artes bridge, which is famous for its love locks and for the fact that this is where Sex and the City's Carrie and Mr Big finally managed to make things right. Afterwards a trip to the book store "Shakespeare and Co." is highly recommended – not only for fans of the romantic movie "Before Sunset" starring Ethan Hawke and Julie Delphy. Last but not least, stroll along the Quai de Montebello for old-school romance since this is where Cary Grant and Audrey Hepburn fell in love in the spy movie "Charade".
Cheap bus connections to Paris:
London ↔ Paris, megabus, from £15.45
Manchester ↔ Paris, megabus, from £33.52

Share this post: