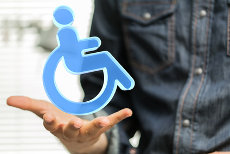 In the UK about 11 million people suffer from a long-term illness or disability1 and around 9 per cent of the population report having mobility difficulties.2 Although society is working towards the integration and inclusion of people with disabilities, their impairments can still result in obstacles to be overcome in everyday life.
This is particularly true for the public transport sector, as about one fifth of the affected people claim to have difficulties accessing public transport.3 When it comes to urban transportation, the last years have resulted in vast improvements: Whereas in 2004, only 52 per cent of the buses were accessible with a wheelchair, this was true for 88 per cent of the buses by 2012.4 In London 98 per cent of the buses are accessible for wheelchair users.5 Regarding, the intercity coach industry, however, accessibility standards are still in great need of improvement.

Everything you need to know about barrier-free buses

Accessible Buses and Coaches: What Does the Law Demand?


Status Quo: How Accessible Are Coaches in the UK in Real Life?


Accessibility of Coaches in Europe: An International Comparison

Accessible Buses and Coaches: What Does the Law Demand?
The EU Regulation No 181/2011 lays the groundwork for barrier-free bus and coach transportation. Its basic premise is one of non-discrimination, stating that the responsible transport providers should do their best in order for disabled passengers to use public transport in the same way as non-disabled passengers. It advises bus companies to strive for "design for all" vehicles and to train their drivers in an adequate way so that assistance can be offered to passengers with reduced mobility. However, the EU regulation should be understood as a very first step and encourages EU countries to come up with stricter regulations and more defined rules of their own.
This is why the Public Service Vehicle Accessibility Regulations (PSVAR) were issued in August 2000. They include a very clearly defined set of characteristics which certain vehicles have to have. This is referred to as Schedule 1.

Schedule 1 includes
Minimum of 1 wheelchair space
A boarding lift, boarding ramp or a portable ramp
A communication device that can be reached from within a wheelchair
Appropriate lighting so that a wheelchair user can board and exit the bus safely

These regulations do not only apply for urban buses but also for specific long distance coaches. Ever since 2005, every new coach had to be designed in accordance with Schedule 1. Starting from 2020, every coach that is operating transport services in the UK has to adhere to these regulations.

Status Quo: How Accessible Are Coaches in the UK in Real Life?
Despite the fact that newly registered coaches are supposed to be designed according to the above mentioned PSVAR standards, there are still numerous coach companies not offering transport for wheelchair users, including domestic companies like the local airport shuttle service Terravision or larger international companies such as Eurolines UK. And even if boarding the bus in your own wheelchair is possible, then a lot of time consuming research is usually required before boarding. The operators megabus and National Express, for instance, provide some accessible vehicles and thus allow customers with reduced mobility to use all of their bus routes – however, the journey needs to be booked 36 hours in advance. In addition, you cannot book your ticket online but need to make a reservation via telephone. While this might seem like an additional chore, it also helps the bus companies to make sure that the specific wheelchair in question is compatible with the retainer on the coach, since not every wheelchair is made for on-board transportation. National Express offers a hotline and mail service for disabled passengers, where someone will help them plan a journey. This service also takes into account the needs of deaf and blind customers.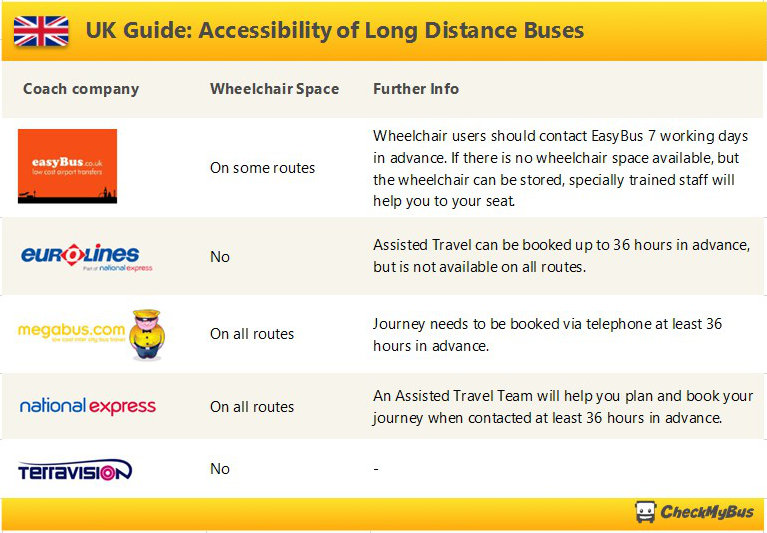 After the booking is completed, disabled passengers still have to face a number of obstacles, starting with the infrastructure of the bus stops. According to the European Commission there are only three bus terminals in the UK, which are fully accessible, namely Victoria Coach Station in London, Birmingham Coach Station and Europa Buscentre in Belfast. For comparison: There's 87 accessible bus stops in Romania; not a single one, on the other hand, in Austria, Italy and Poland. Another big issue for passengers with reduced mobility is the accessibility of the sanitary installations on board, which can usually not be reached by wheelchair.

Accessibility of Coaches in Europe: An International Comparison
Compared with other countries, the UK's bus market is a very well-established one. Because the railway system is government-funded in many other countries, the bus market has until recently been highly regulated. This is, for instance, the case in Germany and France, where the coach markets were deregulated in 2013 and late 2015. However, these countries reacted to the demands of disabled passengers much quicker by instantly establishing specific deadlines. Whereas coaches did not have to be accessible in Germany for the first three years, new vehicles have to be equipped with two wheelchair spaces ever since January 2016. In France, the country with the youngest coach market, no grace period was granted and every new vehicle had to have wheelchair spaces from the moment the market was deregulated. This results in the fact that the French provider OUIBUS is the only company, which offers wheelchair spaces on every single bus.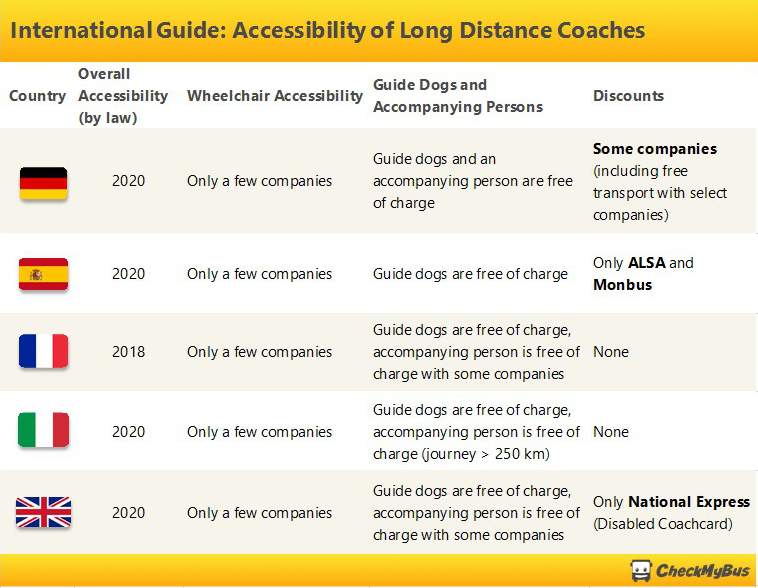 However, this does not solve issues such as the demand for advanced booking or the inaccessibility of bus stops. In order to make up for these obstacles, the German law provides something called "Nachteilsausgleich" (engl.: Disadvantage Compensation). This means that there has to be some form of recompense for passengers with disadvantages. Most of the time, this consists in financial benefits such as discounts. German passengers with disabilities, for instance, travel for free on the majority of trains and on some coaches – a scheme that is similar to the London Freedom Pass or other older person's bus passes in the UK although these mainly refer to local buses and not to long distance transportation. Other coach companies in Germany offer discounts of up to 50 per cent. Something akin to that exists in the UK in the form of the National Express Disabled Coachcards. Buying this card for £10 allows passengers with a handicap to get 1/3 off on any journey for one year. People from Scotland with a disability and about the age of 60 can get the National Entitlement Card, which allows them to travel for free on local or Scottish long distance buses.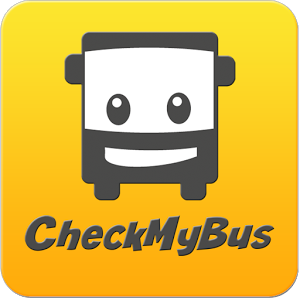 Fully accessible long distance buses in 2020? Although passengers with disabilities or reduced mobility already have the chance to travel the UK and Europe by coach, there's still a lot to do. Despite the coach companies' efforts and the state's regulations, there's many hurdles left to be overcome including the accessibility of bus stops and technical difficulties such as the compatibility of wheelchair and coach. However, the law demands that all coaches have to be designed in accordance to the PSVAR's Schedule 1 from 2020, which might be the next big step for the coach market. After all, since 98 per cent of London's buses are already barrier-free, why shouldn't intercity buses be?
---
Sources:
1Office for Disability Issues
2Transport Statistics Great Britain 2014, issued by the Department for Transport
3Office for Disability Issues
4Office for Disability Issues
5Annual Bus Statistics: England 2013/2014, issued by the Department for Transport
Share this post: