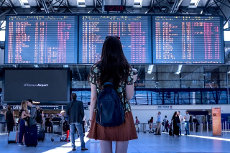 Despite the recent price hike for British railways, airplane tickets are becoming closer to bus fares, opening up plenty of options for affordable travel, both domestic and abroad. In many cases, it's actually cheaper to take a flight between two cities than it is to take the train, and this is often at a fraction of the time it would take to ride the bus. At CheckMyBus, we looked at different connections (four months in advance), both within the UK and to continental Europe and found that both modes of transport offered surprisingly low prices in different situations. For instance, flight connections between Berlin and London can often be found for prices as low as £9.99.

Affordable Connections Keep Domestic Prices Competitive
As said before, trains in the UK are getting more and more expensive and are among the priciest in Europe. For instance, when travelling between Nottingham and Edinburgh, train tickets start around £62.50 while taking the coach would cost roughly £14.30 and an airplane could cost £29.99 with a company like Ryanair, which offers some of the cheapest flights around. Megabus offers expecially cheap fairs and even has special deals for £1.00 for select routes. This acts as the primary competitor to the country's market leader, National Express, which still has the largest network in the UK.

Cheap Flights Keep Europe Connected
When it comes to international travel, it's hard to beat the airplane in terms of affordability. People who are flexible about when they travel and are willing or capable of travelling on weekdays can find some of the best deals around, particularly with Ryainair, which offers flights all over continental Europe. Still, in some cases, taking the bus is the more affordable option, for instance for travel between London and Paris or Amsterdam, but when considering the time spent on travel, taking an airplane might justify the extra cost. Likewise, flying to cities like Berlin, Dublin and Frankfurt are actually cheaper than taking a coach and is still much faster. It's a win-win scenario!
Share this post: