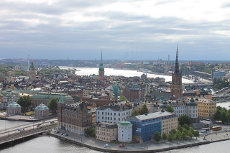 Earlier this year, tests of autonomous buses began in a real context on the streets of Stockholm's financial district of Estocolomo. This autonomous driving project has put its shuttle minibuses to the test, sharing the streets with pedestrians, cyclists and other vehicles. These buses run can at speeds of up to 24 km/h and form part of the joint initiative of Ericsson and several local partners, such as Nobina, SJ, Stockholm City, Klövern, KTH and Urban ITC Arena
Ericcson's Autonomous Buses are Already on the Streets of Stockholm
These shuttle buses are a part of the Drive Sweden innovation project, launched in 2015. The primary objective is to evaluate the behaviour of autonomous vehicles in a real-world context over longer periods of time. The tests will be carried out in an environment with changing climatic conditions, to check the remote control and human response rates. Instead of a traditional driver, the minibuses are equipped with a so-called "host," which oversees supervising the vehicle and closing the door once all passengers are on board. The vehicles have a capacity for eleven seated passengers.

The buses offer transport services in a pre-programmed section of 1.5 km to the Kista Science City in Stockholm for six months. The minibuses use the technology "LIDAR," which is an acronym for Light Detection and Ranging (detection by light and distance), a series of sensors that allow autonomous vehicles to "see" and thus circulate safely.
In addition, tests for the connectivity of vehicles to a 5G network are also planned. For this, Ericsson makes its Connected Urban Transport solution available, which includes the monitoring of autonomous vehicles. An Advanced Traffic Management System (ATMS) based on this solution, was launched at the end of 2017 in the city of Dallas, Texas.


Share this post: