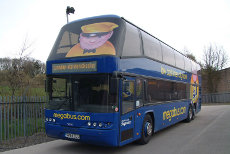 The inconspicuous seafront town Weston-super-Mare in Somerset, England, made headlines in the past few days as a top secret project was revealed to the public. The town on England's west coast currently hosts an unconventional art exhibition of unprecedented scale, created by the famous London graffiti artist Banksy. What is described by the creator himself as a "family theme park unsuitable for small children", is a 2.5 acre-site filled with ironic reimaginations of iconic fairytale characters, that are highly politicised and socio-critical. Tickets for Dismaland are in high demand, yet there are still some up for grabs. Visitors can take the intercity bus in order to reach Banksy's "bemusement park": Tickets from London to Weston-super-Mare are available via National Express. Coaches to Cardiff or Bristol are provided by megabus with ticket prices starting at £3.
Dismaland is Banksy's biggest project so far and represents the result of a cooperation with 58 other renowned artists, including record-breaking sculptor and painter Damien Hirst and feminist Neo-conceptual artist Jenny Holzer. Only two artists turned Banksy's proposal down. Dismaland – which is inspired by Disneyland yet lacks any Mickey Mouse iconography – is a large-scale theme park in which common stereotypes are recreated, in order to express social criticism. On entering the park, visitors are confronted with a cardboard recreation of airport security checks conducted by grumpy guards. After the fake control, theme park visitors immerse in a world full of uninspired employees, run-down castles, post-riot villages and, in general, fairytales gone bad. They can take a look at the site where Cinderella's coach crashed and where paparazzi are eager to get the best shot of the dead princess. Active participation is encouraged as well, as for instance in the daily burning of books written by the local Lord Jeffrey Archer. When children run out of money at Dismaland, it is not a problem at all: Thanks to "pocket money loans" everybody can easily get a credit – with an interest rate of 5,000 percent.
Dismaland, which is on until 27 September, is the perfect mini-break destination for travellers, who are after a more unconventional kind of vacation. For everyone else, going on holiday by bus and coach is also highly recommendable: A coach trip from London to Paris – the home of the original Disneyland – is just as convenient and nearly as inexpensive as a journey to its provocative counterpart. Tickets for a ride with the French coach company iDBUS are available from £14 only.
Share this post: