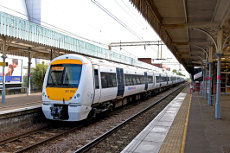 Life isn't exactly a bowl of cherries anyway but it's even harder for commuters. With ongoing debates about an overnight underground service for London, tube strikes are nothing out of the ordinary causing even Boris Johnson to look for alternative means of transport. City-to-city travellers are also affected by cancelled services since Arriva Trains Wales and other rail companies have become notorious for repeated industrial actions. But it's not only rail strikes which are a commuter's daily nuisance: Train delays are not uncommon. According to the Public Performance Measure, in January 2016 about 11.6 per cent of the UK trains did not arrive on time. But don't fret: Usually there's a good explanation for your train being late, as our top picks reveal.
Top 7 reasons for trains being late
Too Much Sun

The weather in the UK is many things but it is certainly not very versatile. Usually it consists of a constant alternation of light rain, normal rain and heavy rain. Reason enough for people to be surprised by any unforeseen changes in weather conditions. One of the most commonly weather-affected part of the British society are public transport providers, like railway and coach companies. Only recently the rail company Southeastern claimed that the "low winter sun" was the reason for several delayed services.
The Wrong Type of Snow

Apparently snow comes in many different manifestations – a fact, for which the British Rail was not prepared in 2001. Winter was coming and BR claimed that they were well equipped to tackle the snow. However, the snow was too fine and powdery in order to be picked up by snowploughs and instead infiltrated the electrical systems of trains, ultimately causing them to break down. During a press conference, Terry Worrall, the Director of Operations at BR, confirmed that they were "having particular problems with this type of snow, which is rare in the UK". When a journalist asked whether it was the "wrong kind of snow", Worrall replied: "No, it was a different kind of snow."
Leaves on the Track

Leaves on the line are a very common explanation for train delays in the UK. According to a survey, leaves caused about 8,000 hours of train delay in the UK in 2013. This reason has become so frequent that even Southeastern's spokesperson picked it up after having complained about the glare of the sun last week: "We know that sometimes it seems that if it's not leaves on the line or snow on the track then it is some other weather issue." The rail companies' frequent weather related explanations even prompted the Daily Telegraph to commission a cartoon headlined "Trains cancelled – Wrong sort of seaweed".
A Man in the Trees

Our only non-weather-related pick is an incident which occurred in 2014. A burglar ran from the police, followed the train tracks and hid in the trees close to Charlton. The man stayed in the trees for 17 hours causing the rail providers to cancel the affected services. After that time, the burglar could finally be captured and arrested. In addition to him being arrested for theft, he was also charged with obstruction of trains with intent.
Ronald McDonald

When you're waiting for your train and you're going through all the scenarios to figure out the reason for the delay, then don't exclude gigantic clowns. A train from Cardiff to London was late a few years ago because a blow-up Ronald McDonald was swept away from the roof of a local fast food restaurant. We sincerely hope that no-one on the train suffered from severe coulrophobia, the fear of clowns.
Christmas

The only thing worse than a late train is no train at all. Christmas without train services? – Same procedure as every year. While numerous Brits are not too fussed with the lack of trains during the Christmas holidays (good excuse to not attend the family feast after all), there's a few people who would appreciate more travel options at this time of the year. Take a look at Germany, for instance: They might not have mince pies or boxing day football, but you can't help but marvel at the efficiency of their holiday train services.
Delay Caused by Delay

Sometimes it's as simple as that – at least when you work for the London Underground. There's no need to go to great lengths to make your passengers understand the causal relation of a train delay. "We apologise for the delay to customers on platform one. This is due to a delay in the actual service." After all, Shakespeare already knew that brevity is the soul of wit.
Unforeseen incidents – be they weather-related or not – can always occur and cause delays. We recommend: Keep calm and take the bus!
Share this post: