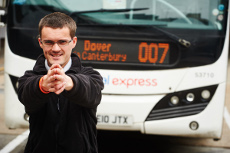 Compared to September, the National Express 007-service has seen a rise in ridership – which cannot be a coincidence, according to the coach company. About 8 percent more passengers could be found on the buses operating direct connections between London and the Kentish coastal town Deal. National Express ascribes this success to the recent release of the latest Bond movie "Spectre" and wonders whether the 007 in the protagonist's secret agent status was actually inspired by a humble coach.
"Bond is suave, sophisticated and devastatingly cool so it's quite funny to think he could have been named after a bus, but then again what could be more quintessentially British?" muses the 007-bus driver Nathan Rushton. He reports that being a coach driver on the 007-service never gets boring since there is numerous people pointing their finger at the distinctive destination blind of Rushton's bus: "While James Bond is more likely to be seen behind the wheel of a Bentley, it's a massive honour to drive the 007 and it certainly attracts a lot of attention. It's always a talking point, you see heads turning as you go by and people pointing. There's definitely been more passengers recently, perhaps because of the new film and people are often quite excited to get on."
National Express claims that their 007-service could actually have served as an inspiration for Bond's inventor Ian Fleming, who lived both in Kent and London – the two final destinations of the bus line. Moreover, Fleming is infamous for drawing on random information when creating plots and characters. The main protagonist himself, is named after the renowned birdwatcher James Bond after all. The author had chosen the name in 1952 because it sounded very common and very masculine at the same time. Fleming's house in Belgravia also served as inspiration: In the Bond adventure "Moonraker", the villain Sir Hugo Drax lives on Ebury Street – the street, Fleming himself used to live on. In the same movie, Ebury Street serves as the starting point for a car chase, that takes Bond all the way to Dover, another stop on National Express' 007-service. However proud National Express is of the possible connection between the UK's most beloved spy and the popular bus service, the coach company has to acknowledge that Bond beats the bus when it comes to speed: While the National Express service takes 25 minutes for a ride from Canterbury to Dover, Bond managed the same distance within only 15 minutes. But there's a good reason for that: If the bus was as fast as Bond's Bentley, then most of its passengers would probably arrive just like Bond's favourite drink – shaken.
Share this post: