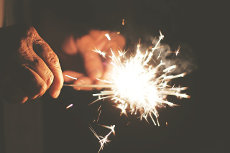 Remember, remember the 5th of November… Every year, the UK lights up in beautiful firework displays to commemorate the famous Gunpowder Plot of 1605. Cities all over the country celebrate by arranging bonfires, parades and funfairs and the spectacle usually attracts thousands of visitors.

What is celebrated on Bonfire Night?
On 5 November in 1605 a group of English Catholics tried to blow up Parliament. As James I acceded to the throne, Catholics were hoping that times of religious persecution were over but unfortunately this was not the case. Due to a letter of warning that was made public, officials found out about the plans and searched the cellars under the Houses of Parliament, where they found Guy Fawkes, the most famous of the conspirators. After days of torture at the Tower, Fawkes gave away the names of his partners in crime leading to mass execution. To avoid being hanged, drawn and quartered, Fawkes himself ultimately leapt to his death and died of a broken neck.
Bonfire Night Trivia

There's a Guy Fawkes island in the Galapagos Islands.


The hero/villain of the comic and film "V for Vendetta" is loosely modelled on Guy Fawkes.


Even today, the Houses of Parliament are checked for explosives once a year.


Until 1959 it was illegal not to celebrate Bonfire Night.


The only place in the UK not joining in the celebrations in St. Peter's school in York – Guy Fawkes' old school.


Although Fawkes died from a broken neck, his body was quartered afterwards and the parts were sent to the "four corners of the kingdom" as a warning for other potential conspirators.
How is Bonfire Night celebrated?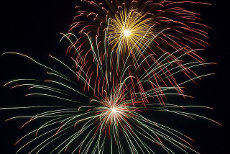 The most traditional way to celebrate bonfire night is by staging firework displays, which are meant to represent the conspirators' explosives. However, there's also an element of satire to be found in many Bonfire Night celebrations. Straw dummies of Guy Fawkes are usually carried around town before they are burnt in public. To update the celebrations a bit, straw dummies of modern-day political figures are part of the celebrations.
Where to go for Bonfire Night?
If you're looking for a traditional Guy Fawkes Day celebration, then you should take a coach to the small town of Lewes in Sussex. Six official Bonfire Societies manage the fireworks, parades and tableaux. All of them have their very own traditions and there's some kind of rivalry between the individual societies. However, for the big highlight of the celebration – the march through Lewes town – they all come together.
Cheap Coach Trips to Sussex:


Bus from London to Brighton, National Express, from £5


Bus from Portsmouth to Brighton, National Express, from £10

For a more modern celebration, you can basically head to any larger city in the UK. Highly recommended are the firework displays in Liverpool and Glasgow. The first one takes place at the River Mersey, which serves as a beautiful backdrop. The Glasgow Green Fireworks are accompanied by live music and a laser show. All in all, about 50,000 explosions are to be expected.
Cheap Coach Trips to Liverpool and Glasgow:


Bus from Manchester to Liverpool, National Express, from £3.10


Bus from Newcastle-upon-Tyne to Glasgow, National Express, from £15.70

Obviously, London is the capital of Bonfire Night spectacles. Primrose Hill is always a good place to observe the fireworks, which are lit all over town. If you're looking for day-long entertainment, then go to Alexandra Palace. Not only will you have a beautiful view of the fireworks but there's also a funfair, ice skating, a craft beer market and a German beer festival.
Cheap Coach Trips to London:


Bus from Oxford to London, megabus, from £1


Bus from Nottingham to London, National Express, from £5

Share this post: