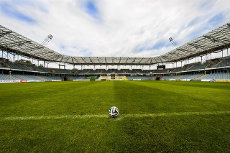 On 3 June, one of the football highlights of the year will take place and lure about 200,000 people to the Welsh capital city Cardiff. With only close to 350,000 inhabitants, Cardiff might be the smallest city to ever host a Champions League final but it is well prepared. The match – which will most likely feature Real Madrid and Juventus F.C. after their impressive victories over Atletico Madrid and AS Monaco – will be played at the Principality Stadium, formally known as Millennium Stadium. Despite the stadium having already hosted six FA Cup Finals and the 1999 Rugby World Cup Final, the match marks the first European football final to be played at Principality Stadium.
Champions League Final 2017: What to do in Cardiff
Although tickets are basically all sold out (despite the few specifically set aside for fans of the two finalists), there's plenty to do in Cardiff and even if you don't get to be at Principality Stadium, a trip is still highly recommended. The city is expected to be swamped with around 200,000 football fans in the build-up to 3 June and Cardiff will offer entertainments of all sorts. One of the highlights is certainly the Cardiff Champions Festival at Roald Dahl Plass, which will open on 1 June and will run until the day after the final. You get the unique chance to have a free photo of you taken with the CL trophy or you can rent the floating football pitch and see whether your skills can compare to those of goalkeeping legend Gianluigi Buffon or local hero Gareth Bale.
Be aware though that due to safety issues, there will be no big screens at Cardiff Champions Festival and the ground will be closed a few hours before kick-off. No need to panic though, as the local pubs and bars have been encouraged to host their own public screenings of the highly-anticipated match – we recommend getting there early to get some of the good spots.
If you are one of the lucky few and managed to get your hands on tickets, then there's plenty of places to have a beer beforehand or to celebrate a victory (or cry over a loss) afterwards. It is said that within a quarter-mile radius of the stadium, fans can find more than 70 bars and pubs!

How to get to Cardiff for the Champions League Final 2017
Be aware that thousands of people will be travelling to Cardiff for the big event and that public transport is likely to be a bit crowded. But don't worry: The city administration has already emphasized that it is well prepared and that the travel chaos of the 2015 Rugby World Cup, during which some of the fans had to queue for hours for a train or bus, will be avoided thanks to additional train services and about 1,250 coaches taking supporters to and from Cardiff for the big day.
Travel to Cardiff for the Champions League Final: cheap coach connections for less than £15
Bus from London to Cardiff, megabus, from £4

Bus from Birmingham to Cardiff, megabus, from £7

Bus from Swansea to Cardiff, National Express, from £4

Bus from Manchester to Cardiff, megabus, from £11

Bus from Bristol to Cardiff, National Express, from £3

Bus from Leeds to Cardiff, National Express, from £15

Share this post: