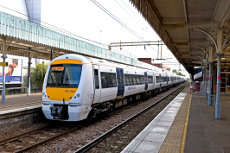 With a Bank Holiday weekend ahead, many UK travellers are about to visit friends and family or to spend some relaxing days in one of the UK's many holiday destinations such as Brighton or the Lake District area. However, passengers and commuters alike should prepare for disruptions when planning to reach their destinations by train. After having already been affected by a rail strike this week, engineering works on the Bank Holiday weekend are likely to cause longer travel times and reduced services.
Amongst the railway companies in question are West Coast Mainline, First Great Western and Transpennine. In addition the airport transfer shuttle Gatwick Express will also stop running services between Saturday, 30 April, and Monday, 2 May. However, thanks to the coach company National Express, passengers flying to and from Gatwick Airport still benefit from convenient and inexpensive connections to London's city centre. Despite increasing demand, tickets for coach services from Gatwick to London Victoria Coach Station are still available starting at £5. This is also due to the fact that National Express is well prepared for the weekend and has added 8,000 extra seats on many of the connections disrupted by rail engineering works. The journey time comes to about one and a half hours. Passengers fearing that their flight might be late and that they will miss their bus, have the option to make use of National Express' flexible airport journey option for an additional £5, meaning that the next available bus can also be taken. In addition, National Express customers can save up to 25 per cent when booking a return ticket as well.
The coach company states that year-on-year bookings for the Early May Bank Holiday weekend have gone up by about ten per cent and that the most popular day for travelling is Friday, 29 April. The five most popular destinations are London (including the city's airports Gatwick, Heathrow, Stansted and Luton), Birmingham, Bristol, Leeds and Manchester.
Share this post: