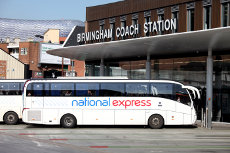 Christmas is a busy time of year in the public transport industry as numerous of travellers are looking for inexpensive options to visit friends and relatives. While many train providers offer reduced services, leading to many changes and longer journey times, coach companies try to cater to the travellers' needs during the holidays.
According to National Express, 23 December is the most popular day to travel, followed second by 27 December. In order to enable every passenger to spend the holidays with their loved ones, the coach company has added thousands of extra seats for Christmas. Should more be needed, National Express is prepared to further increase the amount of available seats. Furthermore, an extra 19 destinations are on offer during the holiday period, including bus stops in Derby, Edinburgh, Norwich, Cambridge, Portsmouth, Maidstone and Basingstoke. Since some airport transfer services, such as Gatwick Express, are affected as well, National Express offers two departures per hour from London Victoria Coach Station to the Terminals at Gatwick. The coach company has recently announced that bookings for Christmas Day went up by 180 percent. All in all, in December there's about 10 percent more passengers taking National Express services than in other months of the year. For the coach company this is reason enough to double the number of departures on 25 December.
It is not only National Express, who is driving home for Christmas as trains stand still. Other coach companies such as Eurolines UK and megabus also offer numerous journeys in between Christmas Eve and New Year's Day. Passengers wanting to go from London to Cardiff on Christmas Day can still book a coach journey for £22. When wanting to go from Liverpool to London, a journey on Christmas Day is still available for about £15 and thus not much more expensive than fares on normal travel days without rail service disruptions.
Share this post: