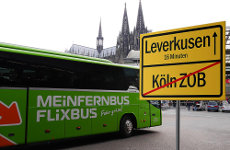 The comfort of coach journeys depends not only on the on-board features of the respective companies but also on infrastructure issues – for instance on the facilities, which can be encountered at the coach station. The passenger usually benefits from a good location in the centre of the city and from basic features such as public conveniences, kiosks and a waiting room with enough seats. Another equipment that comes in handy especially in case of delays is an electronic information board. However, not every city is willing to supply coach companies with the required infrastructure, as a recent case from Germany demonstrates.
The city of Cologne has recently decided to ban all intercity coaches from its city centre and to close down the two current bus stops. Instead, coaches are now redirected to the Cologne/Bonn airport, which is a 15 minute train-ride away from the inner city. This decision has caused an uproar in the German intercity bus market, which had only been liberalised in early 2013. Whereas most coach companies reluctantly decided to move their stops to the airport, Germany's market leader MeinFernbus FlixBus chose to boycott the city council's alternative. They have now relocated to Leverkusen, a city very close to Cologne, and supply their customers with free tickets for the local public transport in order to avoid extra costs for passengers.
Another instance, where bus journeys are made more uncomfortable by a lack of infrastructure can be witnessed in New York. The city's main bus terminal, Port Authority, has been in existence for the last 65 years and has hardly been modernised. While short-term solutions, such as the rearrangements of bus gates, did not lead to the desired success, a multi-billion makeover was finally agreed upon last week.
A positive example for a modern and comfortable central bus station, however, can be found in London. Victoria Coach Station is not only located in the heart of the city and in walking distance to popular sights – including Buckingham Palace and the Saatchi Gallery – but is also neatly integrated into the London public transport system. Numerous buses as well as a connection to the tube is available to long distance bus travellers. Furthermore voluntary luggage porters, who work for tips and are not paid for by the TfL, help passengers to find the right bus and to store heavy luggage inside the coach. What's more: The distinctive Art Deco building housing the London bus station is also listed as Grade II by English Heritage.
Share this post: