The spread of coronavirus in the United Kingdom has forced the government to take extraordinary measures to contain it. CheckMyBus is closely following the situation to update its users on what's happening, and the consequences for coach transport.
+++ Important Information about Transport Services +++
Due to rapid changes in the situation, various administrations and businesses are producing frequent service updates, timetables and ticketing information. We strongly recommend you to only travel if it's essential and to check the status of your trip in advance.
We suggest passengers contact the operating companies directly regarding rescheduling tickets, cancellations and refunds.
The British government urges UK citizens abroad to return home as soon as possible, especially while airlines around the world are cutting back on services. Foreign minister, Dominic Raab has said, "Where commercial routes don't exist, our staff are working round the clock to give advice and support to UK nationals. If you are on holiday abroad the time to come home is now while you still can." For more support, we recommend to keep up to date on travel advisories and to contact the nearest embassy.
Coach companies, such as National Express and megabus, are now urging passengers to only travel if it's absolutely essential and are not running in England. megabus continues to serve routes in Scotland.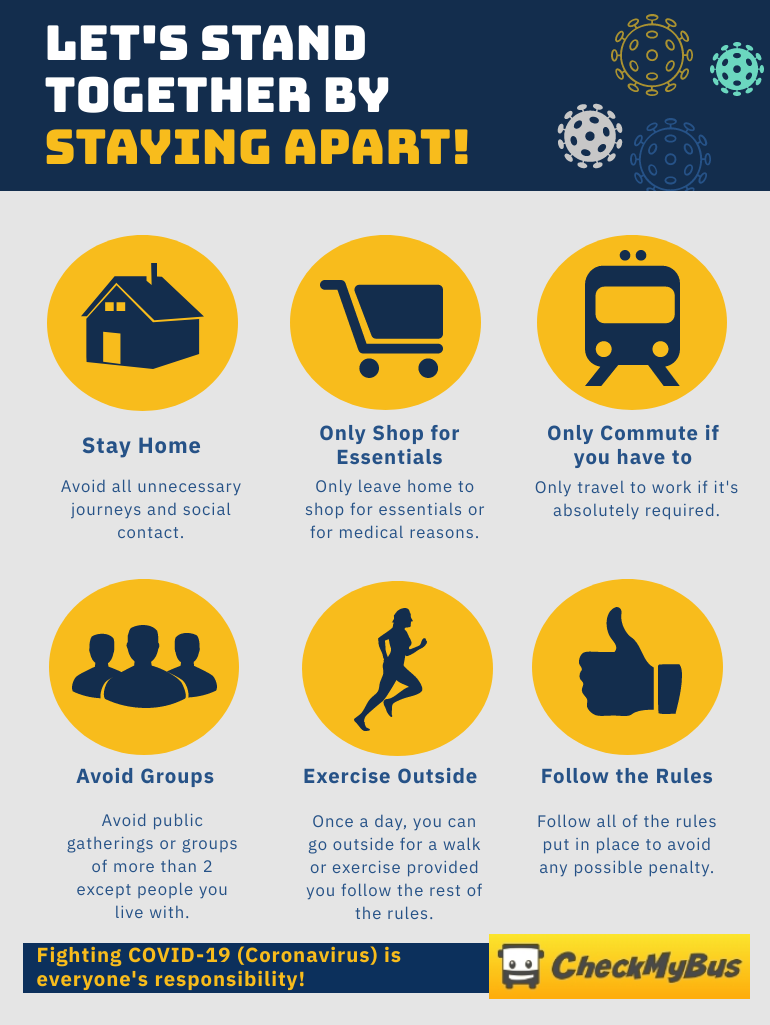 +++ Updates +++
Updated 26/06/2020
Doctors have pleaded with holidaymakers to practice social distancing ahead of the tourism industry reopening from 4 July after a major incident had to be declared in Bournemouth.
Lack of access to rapid coronavirus tests in the UK leaves surgeons unable to operate.
WHO warns that some Britons showing reluctance to co-operate with tracers.
France's second largest airport, Paris' Orly reopens.
40% of residents in coronavirus 'ground zero' ski resort of Tyrol, Austria have developed Covid-19 antibodies.
Updated 24/06/2020
England's gyms and swimming pools could reopen in July.
Health experts are calling for an urgent review to ensure UK is properly prepared for the "real risk" of a second wave of coronavirus.
London's mayor plans to relocate office to plug £500m funding gap due to coronavirus crisis.
Austria has issued a warning against travel to the German state of North Rhine-Westphalia after a coronavirus outbreak at a meatpacking plant.
Paris women's fashion week is to go ahead in September between 28 September and 6 October.
Ukraine is opening more of its hospitals to coronavirus cases as the institutions initially chosen to accept patients no longer have enough beds to cope with a surge in infections.
Bulgaria extends state of emergency until 15 July after jump in cases.
Updated 22/06/2020
Boris Johnson is meeting with his senior ministers today to finalise next steps for easing the lockdown and reopening hospitality sector from 4 July. The PM is expected to announce plans on Tuesday.
Northern Ireland ministers to meet this afternoon to consider further easing of lockdown.
Sewage is being tested for traces of Covid-19 in a trial aimed at helping monitor the spread of coronavirus in Scotland.
Fears of second wave of coronavirus in Germany as 'R' rate jumps to 2.88.
Dubai, one of the world's leading tourist destinations and air hubs will reopen to visitors from 7 July but with strict new rules.
Updated 19/06/2020
Over-50s and key workers in the UK are to be given priority for a coronavirus vaccine if and when it becomes available.
Harry Potter and The Dark Knight among 450 films to be re-released when UK cinemas reopen sometime in July.
A meat-packing plant in West Yorkshire has been placed under emergency lockdown after a severe outbreak of coronavirus.
A study by Italy's Higher Health Institute shows traces of coronavirus have been found in samples taken from sewage water in Milan and Turin in December.
Germany will extend a ban of large events until at least the end of October due to the coronavirus pandemic.
Updated 17/06/2020
English Premier League (EPL) returns on Wednesday June 17 since it has been on hold since mid-March.
Sadiq Khan urges Boris Johnson to bail out struggling councils affected by Covid-19 crisis.
HSBC is to restart the process of cutting 35,000 jobs worldwide after putting it on hold because of coronavirus.
Norwegian Air is to operate 76 European routes from its Scandinavian hubs from July.
Germany will extend a ban of large events until at least the end of October due to the coronavirus pandemic.
Updated 15/06/2020
New UK drug (TRV027) trial targets deadly blood clots triggered by coronavirus.
According to Dr. Anthony Fauci, US ban on travel from Britain will last months. US bans on travellers from the European Union, Brazil, China and Iran may also last for months more, based on the rate of infection.
Non-essential shops in England open today for the first time since March.
WHO warns England against easing further lockdown until the government's test and trace system has proven to be "robust and effective".
Netherlands has today published advice about which countries are safe to travel to this summer.
Spain will reopen to European visitors from next week.
Germany has lifted its travel warning for 27 countries in continental Europe.
Updated 10/06/2020
NHS is under 'huge pressure' after projections showed the combined effects of social distancing, a backlog of treatments and staffing challenges could see NHS waiting lists double to about 10 million by Christmas.
Retail outlets in the UK can reopen starting June 15 as long as they comply with government coronavirus-secure guidelines.
Frankie & Benny's to permanently close 125 UK restaurants putting up to 3,000 jobs on the line.
Germany's interior minister has said the government's cabinet has agreed to "look at things again" if the coronavirus situation worsens.
Wearing masks will continue to be mandatory even after Spain's state of emergency is lifted on 21 June.
Bulgaria extends epidemic emergency until end of June.
An investigation of a major coronavirus outbreak aboard the USS Theodore Roosevelt aircraft carrier may reveal clues as to how Covid-19 affects younger adults.
Updated 09/06/2020
A mandatory 14-day quarantine period for all travelers arriving in Britain has gone into effect.
Canada reopened its border with the U.S. to allow in immediate family members of Canadian citizens and permanent residents.
Updated 08/06/2020
All private and NHS dental practices in England are permitted to reopen from Monday 8 June.
Two-week quarantine for all UK arrivals comes into force.
Poland has ordered the temporary closure of 12 coal mines after a major outbreak of coronavirus among miners in the southern coal-mining regions.
Bars, nightclubs and internet cafes have been allowed to reopen in Greece.
Russia to reopen borders but it is not immediately clear when this would take place.
Updated 05/06/2020
Everyone on public transport in the UK will have to wear face coverings from June 15.
British Airways plans to make up to 12,000 of its 42,000 staff redundant. It also plans to change the employment conditions of those who keep their jobs.
AstraZeneca signed a deal with Vaccine Alliance Gavi & CEPI that it will make 300 million doses of Covid-19 vaccine canditate from Oxford University scientists by the end of 2020. Bill and Melinda Gates Foundation, along with WHO's Access to Covid-19 Tools Accelerator, will ensure that the vaccine is fairly distributed across the world.
UK Pharma, AstraZeneca made licensing deal with India's Serum Institute to make 1 billion doses of the vaccine available in India, as well as developing countries.
Updated 04/06/2020
Boris Johnson to host the Global Vaccine Summit today in London. The summit aims to raise funds to immunise 300 million children against disease in the poorest countries.
From 8 June, passengers arriving in the UK will have to undergo self-isolation for 14 days under new rules introduced to stop the spread of COVID-19.
Ryanair is still processing 35 million refunds: About 40 per cent has been processed while the remaining may take 10-12 weeks.
Spain announced that all restrictions on border crossings with France and Portugal will be lifted from 22 June. Austria is lifting all border restrictions including quarantines for all neighbouring countries except Italy as of Thursday.
Updated 02/06/2020
In the UK the number of deaths due coronavirus stands at 39,045, and there are 276,332 known cases.
The Southhampton-based firm, P&O Cruises has cancelled all sailings up to 15 October 2020.
In the Netherlands, large scale events such as festivals and professional sporting events remain prohibited until at least 1 September.
Formula One to start 2020 season with back-to-back races in Austria in July.
Updated 29/05/2020
Socially distanced gatherings of up to six allowed outdoors in England from Monday.
In England, primary schools to reopen next week for certain year groups, and garden centres, outdoor markets, and car showrooms will begin to open to small numbers of shopper at a time.
Scotland and Wales to gradually relax lockdown.
French carmaker, Renault slashes 14,600 jobs in order to survive the Corona pandemic pain.
Starting on Monday, Spain will begin to ease lockdown restrictions.
Berlin's pubs and fitness studios allowed to reopen.
Updated 27/05/2020
UK, health secretary has announced plans for "local lockdowns" in regions of England where coronavirus cases flare up.
John Lewis is set to begin phased reopening from mid-June.
Clothes touched by customers may need to be 'quarantined' as scientists in the UK say they don't know how long virus can survive on fabrics.
Study finds that mothers in the UK are more likely to have lost their job during lockdown.
Germany has reported 47 new deaths and also confirmed 362 new cases. German government announced social distancing restrictions will be extended through June 29.
Updated 25/05/2020
Somerset hospital, Weston General stops accepting new admissions due to high number of coronavirus patients.
London's Southbank Centre is at risk of closing until at least April 2021 due to financial pressure it faces as a result of Covid-19 crisis.
UK scientists to begin testing a treatment to boost immune cell (T-cell) numbers that it is hoped could counter the effects of Covid-19 in the most seriously ill patients.
Rapid Covid-19 saliva test to be available in Europe mid-June.
Spain is making progress on its staggered plan out of lockdown.
Czech bars, restaurants and cafes reopen.
Greece restarts ferry services and reopens cafes and restaurants.
Updated 20/05/2020
London mayor urges supermarkets to stock face coverings for commuters.
Cambridge University moves all lectures online until 2021.
An Edinburgh company, Breathe Easy is making the first face masks for the deaf community which enable sight of mouth for lip-reading.
Aircraft engine maker Rolls-Royce is cutting at least 9,000 jobs because of the collapse in demand for air travel caused by the coronavirus pandemic.
Spain has made it compulsory for everyone older than six to wear masks in indoor and outdoor public spaces when it is impossible to social distance.
Updated 18/05/2020
Scotland to publish lockdown-easing plan on Thursday.
Transport for London (TFL) has issued a list of its most popular stations to help people avoid overcrowded coronavirus hotspots.
On Monday, beaches, restaurants and bars will reopen in Italy.
Spain aims to reopen borders from end of June, government says.
WHO meets today: More than 100 countries have proposed a draft resolution calling for an independent "evaluation" into the coronavirus pandemic.
The Acropolisin Athens reopened for visitors today after temporarily closing due to the coronavirus outbreak.
The Czech government has lifted the country's coronavirus state of emergency which had been in place since 12 of March.
Updated 15/05/2020
In London, the infection rate has fallen to less than 24 cases per day and the number of cases has been halving every 3.5 days.
Meanwhile the government has been under pressure to justify its decision to reopen schools and taking a different approach to easing the lockdown in Wales, Scotland and Northern Ireland.
Ryanair has cut more than 250 jobs in offices across the UK, Ireland, Spain and Poland as the demand for flights has plummeted.
Germany shall no longer recommend quarantine measures for travellers arriving from the European Union, the Schengen passport-free zone and the UK according to a spokesperson from the Interior Ministry.
Updated 13/05/2020
PM announces £600m funding for care home testing.
Those ignoring social distancing measures at open spaces could see park rangers and security "step in", the boss of London's Olympic Park has warned.
Norwich scientists hope to help end lockdown with weekly testing for all 140,000 residents.
British holidaymakers may not necessarily be able to travel abroad this summer, the UK transport minister said today.
Army of unpaid volunteers being recruited to carry out tests across UK as ministers try to hit 200,000 daily target.
TUI Group — One of the world's largest tourism businesses warns it may cut 8,000 jobs worldwide to reduce its admin cost by 30%.
The border between Austria and Germany will start to gradually reopen from Friday with the aim of opening it completely by 15 June.
Germany hopes for unrestricted European Union travel in mid-June
Austria does not plan to open its border with Italy for now.
The European Commission has set out guidance for EU countries to resume travel and tourism from this summer onwards. They say their advice aims to give "people confidence to travel again".
Updated 12/05/2020
Northern Ireland announced today its five-step plan to ease lockdown measures, but hasn't yet set out dates.
Brussels Airlines announced it will cut its workforce by 25%.
The French government intends to maintain emergency measures, which have been extended through 10 July. This comes after lockdowns were already eased in parts of France.
Russia struggles to contain outbreak of COVID-19 with more confirmed cases than anywhere outside the USA according to Johns Hopkins University figures.
Updated 11/05/2020
The coronavirus has now infected more than 4 million people and killed more than 227,000 worldwide. In the UK, 219,000 people have tested positive and 31,800 have died.
On Sunday evening, UK Prime Minister Boris Johnson unveiled a road map to resuming activity in the country following more several weeks under lockdown. Relevant new measures include quarantining people entering the country by air and a new five-tier alert system.
EU borders are expected to remain close until at least mid-June as The European Commission is encouraging countries in the EU to extend restrictions on nonessential travel.
In Spain, 11 regions will transition to phase one of lockdown as restrictions continue to be eased. Madrid and Barcelona will not move to this phase as restrictions there remain in place.
In France, the state of emergency has been extended until July 10th.
Updated 08/05/2020
The UK government failed to complete its goal of carrying out 100,000 daily coronavirus tests for the fifth day in a row. 86,583 tests have been carried out on Wednesday and 69,463 on Tuesday.
Over 3.8 million cases of COVID-19 have been recorded globally, with nearly 270,000 deaths according to data from Johns Hopkins University.
Australian Prime Minister Scott Morrison revealed a three-step plan to reopen the country and aims to have the process completed by July.
Updated 07/05/2020
In the UK, the death toll exceeds 30,000, and remains the highest in Europe. However, the government plans to gradually ease restrictions.
Brazil sees spike in cases with at least 10,503 new cases of coronavirus and 615 new deaths.
The number of coronavirus patients in intensive care goes in steady decline in France.
In Russia, the city of Moscow will relieve some restrictions next week.
Updated 06/05/2020
After breaking lockdown rules he helped the UK government shape, epidemiologist Neil Ferguson resigned after the Telegraph newspaper reported this.
The United Kingdom now has the second highest number of reported cases in the world.
In Russia, the new coronavirus cases rose by 10,559 over the past day according to the country's crisis response centre.
In Spain, the prime minister aims to secure enough parliamentary votes today to extend the country's state of emergency for another two weeks.
Tokyo reported 38 cases on Wednesday, marking a fifth straight day of declining numbers from Japan's capital city.
Australia aims to have its economy up and running and protected against COVID-19 by July according to Prime Minister Scott Morrison.
Yesterday, both South Korea and mainland China recorded no new local transmissions.
Updated 05/05/2020
The UK is overtaking Italy as the nation with the world's second highest death toll according to data released by the Office for National Statistics. The total surpasses 30,000 in the UK and 250,000 around the world according to Johns Hopkins University.
Scientists warn that even highly accurate antibody tests (at 98%) could leave more than a quarter of people at risk of infection by wrongly confirming even a small percentage of people as immune.
According to the government's chief scientific advisor Patrick Vallance, the UK's COVID-19 reproduction rate is still between 0.6 and 0.9.
The new NHS contact-tracing app is being launched for the first time today on the Isle of Wight. The app is designed to track the spread of the virus to help move towards lifting its lockdown.
Governments in Australia and New Zealand are cautiously discussing ways to re-open their borders to residents of their respective nations. For over a month, both countries closed their borders to all non-citizens.
Updated 04/05/2020
More than 3.5 million people have been infected with coronavirus worldwide and there are almost 247,000 deaths reported. In the UK, there are close to 187,000 people infected with the virus and 28,446 people have died from Covid-19.
The government confirmed that a new NHS app to help trace those who have come into contact with the virus will be rolled out later this month. The new app will be tested first this week on the Isle of Wight.
The General Secretary of the British Airline Pilots' Association warned that the UK airline industry is about to experience thosands of job loses as Ryanair announced plans to cut up to 3,000 jobs and British Airways announced plans to cut up to 12,000 jobs.
According to Heathrow Airport the expansion plans which include a third runway will be delayed by at least two years because of the effect coronavirus is having on the aviation sector.
Eurostar has announced that they will require passengers to wear face masks. Passengers without face covering will be refused travel.
The UK plans a staggered workday for commuters as part of its coronavirus lockdown exit strategy. Travelling at different times of the day would prevent many people at the same time on public transport and help maintain social distancing.
In India, the government has extended its nationwide lockdown by two more weeks until May 17.
France will extend the state of emergency over coronavirus for around two months until July 24th.
In Italy, the airport operators' association Assaeroporti has said that social distancing on airplanes "is not sustainable" and would "penalize Italy and aggravate the crisis."
In Spain, adults were allowed to go out for exercise on Saturday for the first time in seven weeks. From Monday on, some businesses will start to reopen as the country starts easing the restrictions.
Updated 30/04/2020
A senior Tory minister admits the government is unlikely to meet its target of 100,000 daily tests by the end of April.
Captain Tom Moore raised £30m for his NHS charity fundraiser as he approached his 100th birthday.
According to Oxford professor John Bell, the first results of human trials of a coronavirus vaccine being developed by Oxford University should be available by mid-June.
As of 11 May, the Swiss government plans to further loosen its coronavirus-related restrictions.
In India, nationwide restrictions are set to ease on 3 May. The country is preparing by setting up border checkpoints, arranging transportation to bring home stranded workers and creating new non-lockdown guidelines.
In China, destinations like Beijing's Forbidden City are set to open tomorrow for the first time in three months, but new restrictions will put a cap on daily visitors.
Updated 29/04/2020
Testing for coronavirus has been expanded to cover millions of people in England today as the government tries to meet its April target by Thursday.
In Australia, a mining magnate secured a deal on behalf of the country's government for 10 million coronavirus tests as well as pathology equipment. This will be a 20-fold increase in Australia's testing capability
United Airlines and American Airlines will both provide masks to passengers in early May. This is following an announcement from Jet Blue requiring passengers to wear a face covering from 4 May.
Greece's tourism minister announced the country will allow travellers to visit over the summer, but social distancing rules will remain in place to keep people safe.
Updated 28/04/2020
At 11am, a minute's silence was held to remember key workers who lost their lives during the pandemic.
The total number of registered deaths across the UK is almost 25,000.
Lockdowns in Australia and New Zealand have both been eased. This resulted in people gathering at beaches, such as Bondi Beach.
The number of coronavirus cases worldwide has exceeded 3 million people, and over 210,000 have died.
According to a government report, the number of prisoners who have been infected may be as much as six times higher than the published figure.
Pasi Penttinen of the European Centre for Disease Prevention and Control (ECDC) says that a coronavirus vaccine won't be ready until 2021 under the "most optimistic scenarios."
Yoshiro Mori, president of the Tokyo 2020 Olympics, said that if the pandemic is not over by next summer, the games will likely be cancelled.
In Australia, a coronavirus contact tracing app has been downloaded more than 2 million times since being launched on Sunday. COVIDSafe is a voluntary app that's designed to trace people who came into contact with someone with COVID-19.
Updated 27/04/2020
The coronavirus has now infected more than 3 million people worldwide and an over 200,000 deaths have been recorded.
In the UK over 150,000 have been confirmed to have caught the disease, while the country's hospital death toll has reached 20,732.
Boris Johnson has returned to Downing Street resuming full time duties.
Italy will start slowly reopening as it allows businesses such as factories and construction sites to reopen from next week. The country is now preparing to lift what it's considered the longest lockdown in Europe.
In Australia, more than one million people have downloaded the government's new coronavirus tracing app, despite privacy concerns.
Spain is now allowing children aged under 14 to leave their homes for the first time since their lockdown started on 14 March.
German airline Condor said it would receive 550 million euros in loans from the German government to keep it afloat during the coronavirus crisis.
Updated 24/04/2020
Millions of essential workers and their households will now be eligible for coronavirus testing. This is in an effort for the government to meet its 100,000 daily target by the end of next week.
United Airlines became the first major US carrier to require all cabin crew to wear a face covering or mask onboard.
The African continent registers a 43% jump in reported cases in the last week. The director of the Africa Centers for Disease Control and Prevention, John Nkengasong, stressed the continent has "very, very limited" and "very, very strained" testing capacity on Thursday.
Easyjet passengers can swap upcoming flights for "anytime, anywhere" trips. This is after the airline was criticised for making cash refunds difficult.
Prime Minister Boris Johnson plans to be back to work on Monday by holding "catch-up" meetings with ministers.
Updated 23/04/2020
In the UK, social distancing might have to stay in place until 2021 according to the chief medical officer, who believes chances for a usable vaccine by next year are "incredibly small."
Australia's prime minister said all member nations of the World Health Organisation (WHO) should support an independent review into the coronavirus pandemic.
Updated 22/04/2020
Health Secretary Matt Hancock announced that human trials for a coronavirus vaccine will begin tomorrow at Oxford University. If all goes well, researchers believe they may be able to start production as early as September.
The care minister admitted the low number of coronavirus tests is "really troubling." Fewer than 20,000 daily tests are administered on average which is far shorter than the 100,000 pledge by next week.
In Germany, cases have been accelerating with the second consecutive day of more cases.
Updated 21/04/2020
In the United Kingdom, there are nearly 125,000 cases with over 16,000 dead. According to the Office for National Statistics (ONS), the UK's death toll could be as much as 40% higher.
MPs plan to approve plans for "virtual" sittings of the Commons as the House returns after its Easter Recess.
Despite Germany's reports of lower daily case numbers, the annual Oktoberfest has been officially cancelled.
According to the UN Conference on Trade and Development, the global economy could lose as much as $2 trillion during the pandemic.
Updated 20/04/2020
The death toll from the coronavirus has now passed 165,000 people worldwide. In the UK the death toll has passed 15,000.
Boris Johnson has urged caution over relaxing the UK lockdown prematurely due to fears of a second wave of infections.
The low-cost airline Virgin Australia is reported to have gone into voluntary administration. The airline had applied for £715m government bail-out but it was refused.
A poll conducted by Focaldata for Best for Britain and Hope Not Hate has suggested that the majority of the public would rather see the government extend its Brexit deadline than deal with negotiations while coronavirus continues.
Germany has started to ease its lockdown restrictions, allowing some businesses and shops to reopen from April 20th.
Spain will extend 'state of alarm' for 15 more days. The planned extension calls for it to end on May 9.
Updated 17/04/2020
The United Kingdom's lockdown has been extended by three more weeks.
The Royal Family sends "thank you letters" to 99-year-old veteran Captain Tom Moore for raising more than £17 million for the NHS.
In Wuhan, the reporting on the death toll has been revised upwards by 50%. The new figures show 3,869 instead of the original 2,579.
In Germany, each COVID-19 patient is currently infecting fewer than one other person on average. However, Health Minister Jens Spahn says the country will not be "like it was before," and that the country's reopening will be a step-by-step process.
French President Emmanuel Macron calls for financial solidarity between EU member states. He says a fund should be set up to finance states according to their needs rather than the size of their economies.
Updated 16/04/2020
The government will likely extend the UK's lockdown today by three more weeks. The nation's death toll continues to rise.
Health secretary Matt Hancock said coronavirus testing kits will quickly be available for care homes.
UK advisor Neil Ferguson suggests the country will likely need to practice social distancing until a vaccine is available.
The Australian Prime Minister says that the country's coronavirus restrictions will stay in place for at least four more weeks.
In Japan, Prime Minister Shinzo Abe considers expanding the country's ongoing state of emergency, from just Tokyo and other urban areas, to the entire nation.
Updated 15/04/2020
Both Italy and Spain will allow partial returns to work. However, the World Health Organisation warns the outbreak continues to grow in other parts of Europe, including the United Kingdom.
US President Donald Trump will suspend funding for the World Health Organization on account of the company's coverage of the outbreak in China. The United Nations and American Medical Association both condemn this decision.
According to a leaked report from Public Health England, there's a shortage of personal protective equipment supplies.
A 99-year-old veteran raised more than £4 million for the NHS as part of a fundraising effort. He aims to walk a hundred lengths in his back garden before his 100th birthday later this month.
Despite the aviation industry's crisis, air charter firms have been busy providing shuttle services to help transport travellers home.
The United Kingdom's economy could shrink by as much as 35% between April and June.
Updated 14/04/2020
According to a study from Johns Hopkins University, the number of global cases nears 2 million. There have been 120,000 deaths worldwide.
The government announced that the nationwide lockdown will not be lifted this week. According to the World Health Organisation, restrictions should not be lifted all at once.
The pharmaceutical company AstraZeneca revealed plans to launch a global clinical trial for one of its drugs that could potentially help treat the immune response triggered by Covid-19 in severely ill patients.
Around 300,000 nonessential workers are estimated to have gone back to their jobs in the Madrid region on Monday.
The government of India extended its national lockdown until May 3.
The French economy is estimated to shrink by 8% this year according to the French finance minister.
Updated 09/04/2020
The government is discussing and will announce updates about the UK's restrictions. Many officials expect the UK lockdown will be extended beyond next week, potentially until May.
The prime minister is still in hospital but his symptoms show signs of "improving," and he is responding to treatment after two nights in intensive care.
In Spain, the latest data is encouraging and the country is expecting to approach the beginning of a decline in cases according to the Spanish prime minister.
The number of recorded cases in the UK has risen to over 60,000 with more than 7,000 deaths.
The French government will extend the country's lockdown beyond the initial 15 April end date.
Meanwhile, the Czech Republic plans to relax some of its restrictions despite having more than 5,000 cases. Other countries in Europe are also planning for life after conronavirus.
Updated 08/04/2020
London's mayor, Shadiq Khan, has said that the UK's capital is "nowhere near" being able to lift restrictions after more than two weeks into the lockdown.
The Independent conducted an analysis which shows airlines are collectively losing money at a rate of £400,000 per minute according to cash reserves per week.
The United Kingdom tries to source 18,000 ventilator machines to help combat the crisis. Some will come from the USA despite criticism from US states that they don't have enough of their own ventilators to donate.
Boris Johnson is in a stable condition according to junior health minister.
The Head of France's medical council advises the government to extend the country's lockdown period for several weeks.
Residents in the state of Bavaria in Germany are being asked to stay home over Easter to contain the spread of the virus.
The Chinese city of Wuhan, where COVID-19 was first identified, lifted its lockdown after two months of restrictions. The city celebrated this with an impressive display of lights.
Updated 07/04/2020
Jet2Holidays, the UK's second-largest holiday company cancelled all flights and holidays to mid-June in response to the crisis.
The UK's Prime Minister Boris Johnson is in stable condition and good spirits.
El Salvador plans to extend its nation-wide quarantine, while the World Health Organization says Iran's new cases are 'flattening off.'
China has recorded no new deaths yesterday for the first time since January.
Vietnam donated 550,000 face masks to five countries in Europe to support their fight against COVID-19.
The city of Paris banned all outdoor exercise between 10am and 7pm in an effort to tighten containment measures.
Updated 06/04/2020
Prime Minister Boris Johnson was taken to the hospital and has remained in overnight after being tested for persistent coronavirus symptoms.
Queen Elizabeth II addressed the UK and the Commonwealth of Nations on Sunday in a rare televised speech calling for unity.
London continues to be the epicentre of the virus within the UK, with more than 11,000 cases confirmed.
Scotland's chief medical officer has resigned after breaking coronavirus lockdown rules by visiting her second home.
Updated 03/04/2020
National Express will be suspending all of its routes as of midnight.
Train company Grand Central has announced it will not run anymore trains for at least two months since closing its service on 3 April.
The Queen will address the nation on Sunday about outbreak.
The Premier League agreed to donate £20m to the NHS to help support its workers during the pandemic.
Updated 02/04/2020
People who had recovered from coronavirus could be given "immunity certificates" to leave the lockdown early under a new plan being considered by No. 10.
The number of global coronavirus cases is quickly approaching the 1 million mark, with a total of 47,000 deaths and 194,000 recoveries.
In Ireland, an extension on the lockdown measures beyond the original 12 April end date is currently being considered.
Prime Minister Boris Johnson is expecting to stay in isolation longer than anticipated as he is still exhibiting symptoms.
Updated 01/04/2020
Most travel insurances have been taking cues from airlines and may require passengers to sufficiently prove their trip is essential to receive coverage.
In the face of the outbreak, British police have the power to detain patients to be tested if they're believed to be infectious, close a number of non-essential businesses and restrict individuals ability to move around and form large groups.
Wimbledon, one of the world's most important tennis tournaments, was cancelled for the first time since 1945.
Updated 31/03/2020
The UK government announced a £75m plan to repatriate up to 60,000 British travellers left stranded abroad from increased travel restrictions.
Grocery chain, Tesco is expanding its home delivery and click & collect services as the demand has surged as a result of the coronavirus pandemic.
In Wales, 670 retired doctors and 400 nurses will return to NHS after a recruitment drive last week.
Around the world, governments are adopting technologies, such as facial recognition or phone tracking to trace infections and keep tabs on the population as lock-downs and quarantines are enforced.
Updated 30/03/2020
EasyJet has grounded its entire aircraft fleet for a minimum of two months, and Virgin Atlantic is reportedly asking the UK government for financial assistance.
Wimbledon organisers plan to announce the cancellation of the 2020 tournament on Wednesday.
According to Professor Neil Ferguson, who has been advising the UK government regarding the pandemic, the spread in the UK is showing signs of slowing due to social distancing measures.
Australia begins to tighten restrictions, not allowing group meetings of more than two people and closing playgrounds, outdoor gyms and skateparks.
Updated 27/03/2020
UK is granting free parking to NHS (National Health Service) workers and staff.
On Thursday, thousands of people applauded at their windows to show appreciation for Britain's emergency workers.
The United States has surpassed Italy and China for having the most confirmed cases.
Russia's government has urged its citizens to avoid travelling and stay at home.
Updated 26/03/2020
Police may now fine people up to £960 or arrest them for repeatedly breaking the coronavirus lock-down rules.
Worldwide, Japanese residents have been urged to avoid all non-essential overseas travel.
Germany has decided to welcome Italian patients to its intensive care units.
Updated 25/03/2020
To accommodate passengers who must travel, megabus will be operating a revised timeline. The company will also update its cancellation policy for those who have already booked.
Similarly, National Express will also be running reduced services and asks all customers to only travel when absolutely essential. The company's cancellation policy has also been updated for those who have booked.
Scottish Citylink will be taking similar measures as of this week with reduced services reserved only for essential travel until further notice.
The UK government is currently under pressure to close construction sites around the country to limit the number of workers forced to travel.
Updated on 24/03/2020
Strict new rules announced by Prime Minister Boris Johnson include only being able to leave home to exercise once per day, travel to and from work when "absolutely necessary," shop for essential items or fulfill any medical care needs.
Shops carrying non-essential goods have been instructed to close down and public gatherings of three or more people who don't live together will no longer be allowed.
Johnson said the restrictions would be in place for at least three weeks and will be constantly kept under review.
The government has also announced measures to help the UK rail industry and has promised to refund commuters with season tickets if they opt to stay home.
China's Hubei province, where the outbreak first appeared announced it would lift the region's travel restrictions, except for its capital, Wuhan.
The International Olympic Committee decided to postpone Tokyo's summer games. They will likely be held in 2021.
Updated 23/03/2020
The Government warns against all holidays and non-essential travel within the United Kingdom in addition to international travel.
According to the calculations of the Agence France-Presse (AFP) , more than 1 billion people in over 50 countries around the world are staying home because of the pandemic.
The International Olympic Committee is deciding what to do for the Tokyo 2020 Olympics in light of the risks for contagion; the most probable outcome is a postponement to either August or November.
The number of confirmed coronavirus infections in the Netherlands increased by 13% from a day earlier.
Updated 22/03/2020
Worldwide, Germany has imposed a ban on groups of more than 2 people, and in the US 8 other states declare an emergency and impose restrictions on their citizens.
Updated 20/03/2020
The United Kingdom's Foreign Office advised against all non-essential international travel for 30 days.
Despite a rise in the number of cases in London, the British government has not issued a partial shutdown of the city.
Updated 19/03/2020
The UK government is bringing forward emergency legislation to protect private renters from eviction.
As of now the UK government has ruled out banning people from leaving or entering London.
France is considering to extend a two-week lock-down.
In Germany, the number of cases have risen to 12,853 with 34 deaths.
New Zealand and Australia have closed their borders to all non-residents and non-citizens, taking effect on Thursday and Friday respectively.
Updated 18/03/2020
From Friday until further notice, UK schools, colleges and nurseries will close down.
Confirmed cases rose to 2,626 on Wednesday from 1,950 on Tuesday.
The UK government plans to more than double the number of tests carried out in England.
Updated 17/03/2020
There have been 1,547 reported cases and 55 deaths as a result of the virus in the UK according to the World Health Organization.
While Downing Street advised people not to go out, there have not yet been formal orders to close down entertainment venues.
Schools have not yet been closed which has resulted in rising panic from teacher unions.
According to London's mayor, Sadiq Khan, "The Prime Minister has said that London is now a few weeks ahead of the rest of the country because of our global connectivity and size."
Khan suggests the city's residents halt all non-essential social contact, work from home when possible, stop visits to pubs, theaters and other venues.
should any resident show symptoms, his/her entire household should self-quarantine for a minimum of 14 days.
Updated 04/03/2020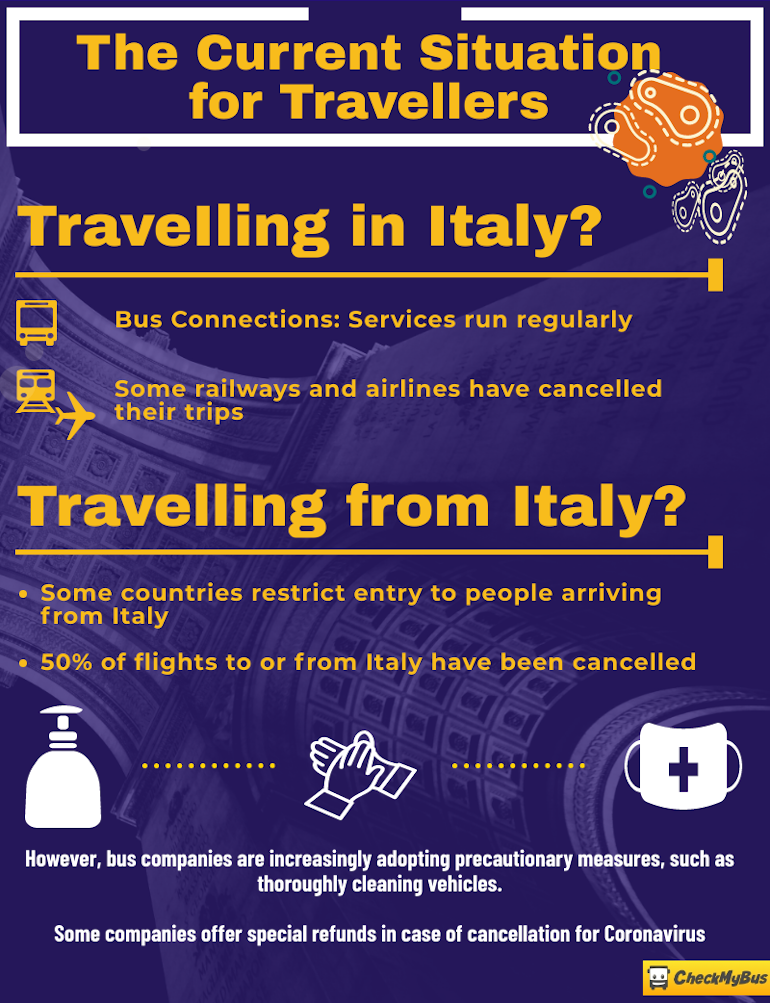 The Italian Ministry of Health will extend its regulations, so far only applied to the north to contain the virus, to the whole country. Events will be canceled, and fewer people will be able to enter public places to minimise crowds and lower the risk of the virus spreading.
Expanding the red zone to some areas in the province of Bergamo is currently being looked into.
Updated 03/03/2020
Ryanair cuts 25% of flights to Italy. The low influx of passengers and reservations has forced airlines to reduce traffic to Italy for the month of March.
After the Czech Republic, Turkey is also suspending flights to Italy.
Bus transport continues regularly, both for local public transport and for long-distance journeys.
Updated 02/03/2020
Czech coach carrier, RegioJet will cancel connections to Italy from 9 – 15 March. These are namely routes connecting Prague to Italian cities.
These connections will go on for this week as scheduled until 8 March, and the availability of the routes from 15 March will depend on how the situation develops. These connections will no longer be sold by the company.
Passengers with reservations for these connections next week can either rebook their trips to start earlier during this week to have the chance to return to the Czech Republic. Alternatively, they can cancel their trip to get a full refund with no cancellation fees for journeys with travel dates up to 31 March.
*On 13.3, the Prague – Milan route will continue but end in Lucerne and on 15.3, this route will only travel from Zurich – Prague.
Updated 28/02/2020
Additional transport companies, including more and more airline companies, allow the change of booking for flights to Italy.
In general, the health emergency does not provide for compensation, however we recommend saving all the documents to request reimbursements.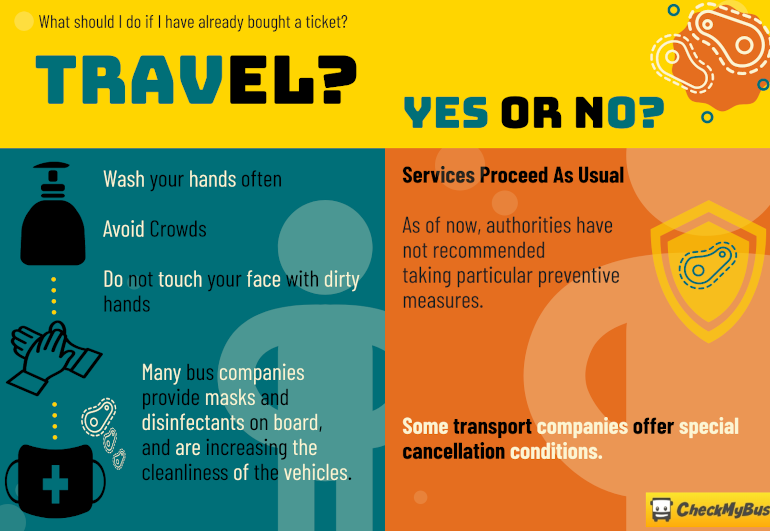 Updated on 26/02/2020
Venice, Treviso and Verona are already experiencing the negative effects of Coronavirus.
Many flights to Milan have been canceled due to lack of reservations.
For the time being, authorities have not recommended particular preventive measures regarding the transport of passengers by bus.
However, more and more companies are offering masks and disinfectants on board.
Updated on 25/02/2020
Many coach companies will provide masks with filters, hand sanitizer dispensers and disposable gloves on their buses, as well as increasing the cleaning and disinfection of vehicles.
With some coach lines you can cancel your zero-penalty ticket for purchases made before February 23rd for journeys to the affected areas.
Delays and Cancellations
As of now most international travel has been cancelled in many countries, if not strictly reduced. Travellers needing to return home are being urged by many countries to do so as soon as possible as many governments, such as the United Kingdom's, have been working to bring their citizens home.
Similarly, many airlines have also been drastically reducing their flights, making commercial flights more difficult to obtain. For example, British Airways has suspended its flights to the United States.
Due to the drastic decline in demand, many coach companies have been slashing their services, and operate just for essential travel. Passengers should check revised timetables to make sure the connections they need are still available.
We advise all travelers to arrive prepared, bringing something to eat and especially water with them. If your trip includes connections, we recommend that you pay particular attention and also look for alternative routes.
Foreign trips
Many countries around the world have imposed restrictions around their borders, as well as medical checks to help curb the outbreak. Many governments advise their residents to avoid all international travel.
+++ We advise travelers keep up to date on all relevant travel advisories +++
Posted on 24/02/2020
How Should Travellers on Coaches and Trains Behave?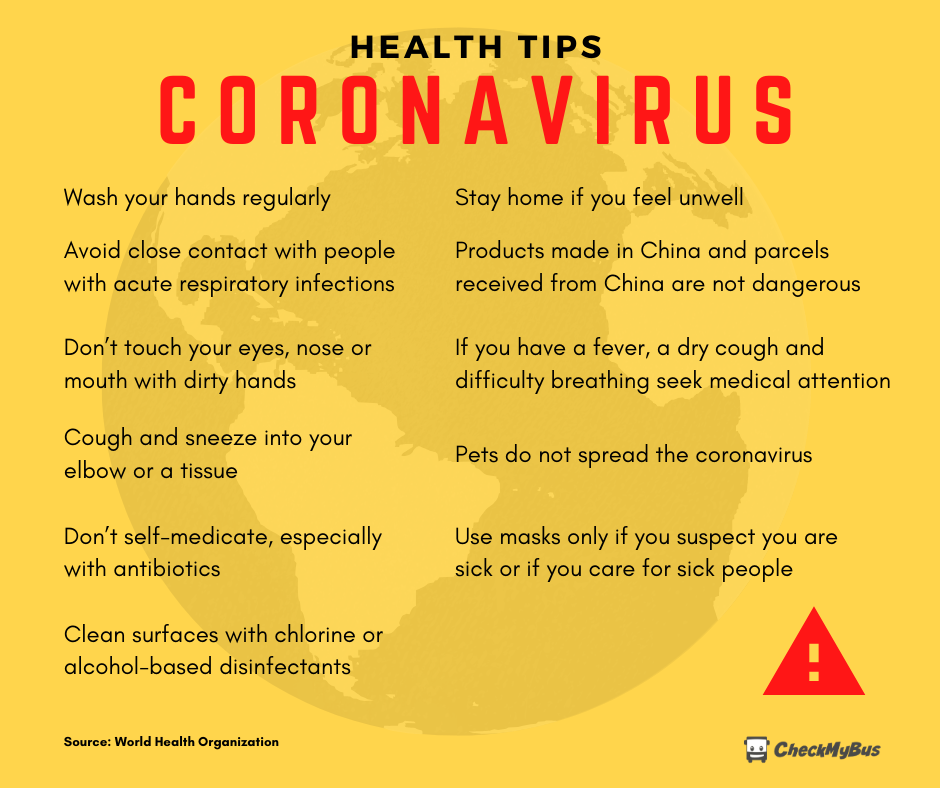 The World Health Organization recommends basic hygienic practices. These include washing hands, not touching your mouth and eyes with dirty hands, covering your mouth and nose in case of coughing and sneezing. Avoiding direct contact with people who experience flu symptoms also limits the risk.
In the UK, both the Department of Health and Public Health England are stepping up to take pre-emptive measures to combat the outbreak. These include the NHS implementing specialist teams in hospital units, having Coronavirus diagnostic tests in labs throughout the country, and "enhanced monitoring" of flights from countries considered at-risk for the virus.
What to do if you've already booked a trip?
We recommend postponing all journeys that are not strictly necessary. Many coach companies will provide hand sanitizer dispensers and disposable gloves. In addition, companies will ensure coaches are cleaned and disinfected more frequently.
If you still want to cancel or postpone your trip, transport companies already offer the possibility to modify or completely cancel the previously booked ticket. These rebooking and cancellation policies are typically more relaxed and don't require a cancellation fee.
For more information on how to cancel your bus ticket: CheckMyBus FAQ or Passenger Rights: Delay and Cancellation
Further information about the coronavirus:
After the spread of the COVID-2019 virus, better known as Coronavirus, governments around the world have implemented a series of drastic measures to contain its spread. These include closing schools and offices, suspending demonstrations and other events, and above all limiting free movement for the municipalities concerned.
However, various transport are still operating to serve customers with an essential need to travel. Companies, such as FlixBus have drastically reduced their services, completely suspending them in many countries, while National Express and megabus continue to run with reduced services.
As countries around the world pass more and more travel restrictions, CheckMyBus is attentive to what is going on, and will publish further updates as the situation evolves.
Share this post: