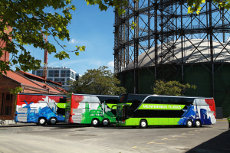 Relaxing days in Scandinavia, beach holidays at the Costa Brava or a city trip to Milan – the intercity bus providers' new cross-border connections make low-cost summer holidays possible for everyone. For quite some time, the bus companies have focused increasingly on international connections building towards a dense European network of inexpensive travel alternatives. Just in time for summer to begin, providers of intercity buses have yet again established various new attractive bus lines.
In order to celebrate its latest additions to its intercity bus network, the German bus provider MeinFernbus FlixBus introduced three new vehicles in a very special design, which is paying tribute to Europe's well-known sights. The three buses are adorned with famous landmarks from the European capitals Rome, Paris and Amsterdam. Apart from that, the bus provider also announced its plans to act on the European market under the name FlixBus due to the international appeal of its easy and catchy brand-name. MeinFernbus FlixBus' new routes lead to Italy, France, Switzerland and the Netherlands. One of the new bus lines, for instance, connects Frankfurt via Mannheim, as well es Karlsruhe and Stuttgart with the Italian fashion capital Milan. Since Italy is considered one of the bus company's most important new destinations, bus stops in Rome, Venice, Verona, Padua, Florence and Turin are also on its agenda.
Thanks to the ongoing deregulation of the French intercity bus market, travellers can look forward to an increasing number of bus routes leading to the Grande Nation. Since the 3rd of July MeinFernbus FlixBus has been taking passengers from Tübingen via Stuttgart and Karlsruhe to the French capital Paris. The bus company has also expressed an interest in bus stops in Lyon, Marseille and the coastal region Côte d'Azur. A novelty in MeinFernbus FlixBus' bus network are routes not connected to the bus provider's country of origin, Germany. For instance, this allows travellers to jump on one of the night buses running from Paris to Amsterdam in order to continue their low-cost European road trip. Although many bus lines already connect German cities with Amsterdam, MeinFernbus FlixBus has increased the amount of daily journeys to the Dutch capital with buses running from Berlin to Amsterdam five times a day. A brand-new destination for the green intercity buses are also cities in Scandinavia. Passengers can now travel from Hamburg to Kopenhagen in Denmark or from Berlin to Malmö in Sweden. Ticket prices start at £14 and include fees for ferry crossings if necessary on the chosen bus route.
Apart from MeinFernbus FlixBus, another bus provider is showing a keen interest in the European low-cost travel market, namely Scottland based bus company megabus UK. After having installed several bus stops in Germany and other mainland European countries, megabus UK has recently launched a connection from Cologne via Lyon to Barcelona. The attractive cross-border route connects three states and allows for inexpensive beach holidays at the Costa Brava. As is characteristic for megabus, ticket prices start at £1. Since many megabus routes take UK cities such as London or Glasgow as their starting point, British customers have the possibility to travel to the continent for little money, using the ever-growing European bus network for low-cost yet comfortable holidays via the intercity bus.
Share this post: