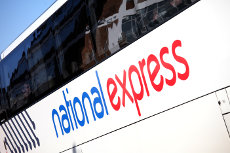 This summer is going to be hot – not only in terms of temperature. Every year the UK hosts numerous festivals and outdoor celebrations, with globally renowned Glastonbury music festival only being one amongst many. The British coach operators are already prepared for summer and offer cheap fares for intercity bus journeys to the UK's hotspots. All that is left for you to do, is to decide on a destination and to book your bus ticket. We have gathered some recommendations for you to make your summer trip a complete success.
This weekend marks the beginning of the Edinburgh Festival Fringe, the world's largest celebration of all kinds of arts and culture. The festival runs until 31 August and offers more than 3,000 events and over 50,000 individual performances, ranging from opera and musical over theatre to art exhibitions. The Edinburgh Festival Fringe is known for its open access policy allowing every artist to take part in the celebrations without restrictions. The event's modern and youthful vibe is highlighted by this year's motto: "What the Fringe?" Getting to Scotland's capital is easy since numerous bus lines lead directly to Edinburgh. Tickets for National Express coaches from near-by Glasgow are available from £5. If you want to go to the Fringe from Newcastle, megabus tickets can be purchased for £8.
A slighty different, yet similarly colourful open-air event can be found in London. During the August bank holiday weekend Notting Hill will be ringing with Caribbean sounds as the annual Notting Hill Carnival will find its way through the borough's otherwise quite streets and alleys. While Caribbean carnivals originally celebrated the abolition of slavery, its modern equivalent is there to highlight London's role as the capital of cultural diversity. More than 60 bands will parade the streets to the sounds of traditional steel band music and south sea tunes. A taste of jerk chicken and rum punch is a must when visiting Notting Hill during carnival weekend. Going to London by coach is not only convenient bus also inexpensive: Eurolines UK, megabus and National Express, for instance, offer coach journeys from Manchester to the UK's capital for £7 only. Tickets for trips from Liverpool to London can also be purchased for under £10.
Music and culture aside, the Britons' most celebrated kind of outdoor entertainment is certainly sports related. Football is finally coming home this weekend as the Premier League is kicking off again on 8 August. See whether Mourinho's Chelsea will be able to defend their title or whether they will have to give in to the forces of the likes of Arsenal and Manchester City. A visit to Stamford Bridge, Old Trafford or Anfield Road is a must for British fans and tourists alike. As pricey as football tickets may be, the coach is an inexpensive way to reach the UK's most renowned stadiums, be it for a guided tour or one of the famous London derbies. Coach providers, such as National Express or megabus, offer low-cost direct connections to London, Liverpool or Manchester – the homes of football.
Share this post: