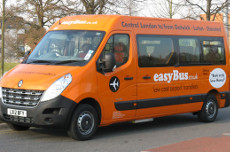 In early July the intercity bus provider EasyBus UK launched its first connection from Heathrow airport to Central London. The low-cost bus company has already been serving bus stops at Luton, Gatwick and Stansted airport and thus offers convenient and inexpensive transfers to the heart of the city.
Sir Stelios Haji-Ioannou, chairman of EasyBus, expresses delight regarding the newly established bus line: "Now virtually every passenger to London has the opportunity to make great savings with EasyBus."
Heathrow is one of the busiest airports in the world in terms of passenger traffic. Located approximately 22 kilometres west of Central London, the air hub is well connected to the city centre, already offering numerous train as well as bus connections. Bus providers such as National Express, for instance, offer links to Victoria Coach Station from where passengers have easy access to the underground system. The new EasyBus city link connects Heathrow's main bus terminal with a bus stop at Shepherd's Bush, from where travellers can switch to Central Line, Circle Line as well as Hammersmith and City Line. Buses will run at least 90 times per day with the earliest coach leaving London at 3.30 a.m. The last bus departs from Heathrow at 1.25 a.m. Travelling time is 30 minutes only.
The new bus connection was launched just in time as tourists were faced with major disturbances due to a major tube strike on 8 and 9 July. The 24-hour walkout was the first shut down of the entire London underground system in the past 13 years. Usually, many travellers make use of Heathrow's direct connection to tube services, which take them from the airport to Earl's Court in roughly 40 to 45 minutes. However, underground drivers have expressed dissatisfaction with the city administration's current plans to launch all-night tube services. As the dispute between the underground conductors and Transport for London continues, more strikes are to be expected. The next walkout will presumably take place on Wednesday, 5 August 2015.
Especially in times of strike, London buses and intercity buses prove themselves to be a highly beneficial travelling alternative. Buses are generally inexpensive and in terms of the Heathrow airport shuttle just as quick as tube services. Another advantage is that every passenger is guaranteed a seat and is therefore able to enjoy a comfortable overground journey from the airport to the sizzling centre of the UK's capital.
Share this post: