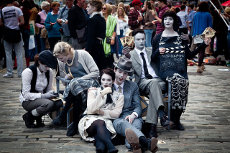 Every August, the city of Edinburgh with its 460,000 inhabitants doubles in size as hundreds and thousands of tourists make their way to the Scottish capital to participate in or simply enjoy the Festival. The Edinburgh Festival Fringe is the world's largest arts and theatre festival and is characterised by a very unique spirit: performances can basically take place anywhere and by anyone and the whole city is transformed into one big stage by theatre companies and comedians from all over the world.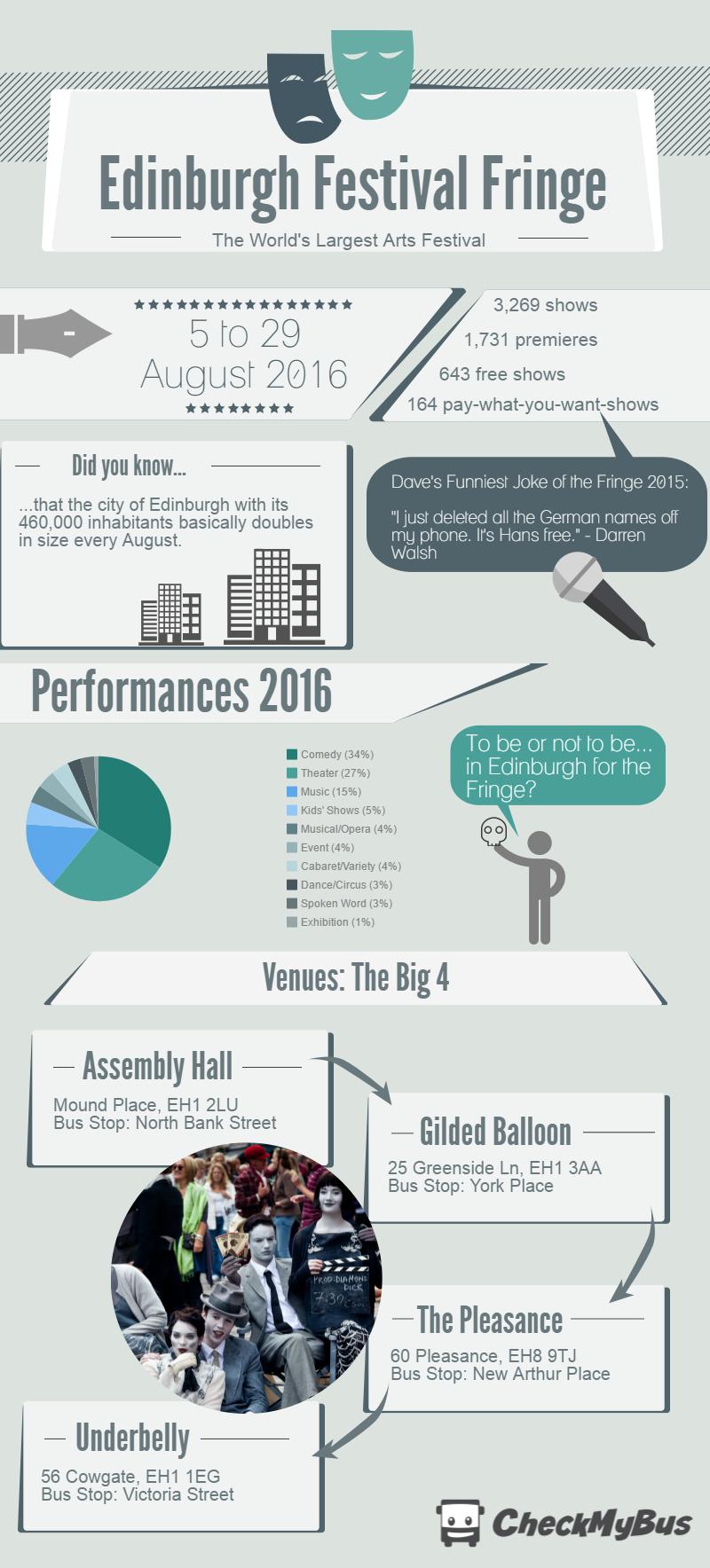 Edinburgh Festival Fringe: A Little History Lesson
The first Fringe was unofficially held in 1947 when the inaugural Edinburgh International Festival took place. Eight theatre companies decided to show up uninvited and to take over the smaller venues in an attempt to bring good entertainment and theatre back to a post-war Britain. The name of the Festival, which should become the world's largest arts festival, was also already coined in 1947, when a theatre critic raved about a performance of Everyman but complained that it was "on the fringe of the Festival".
As the Festival got more and more popular, ever more artists decided to take part in it. There is no official committee, so in fact everyone can stage a performance – all you need to do is to find a venue. Instead of going for the big stages, the Fringe is famous for staging shows all over town and in the most unconventional places. Past performance venues range from the back of a taxi over performances on a bus all the way to impromptu shows in the audience's own living rooms.
The Fringe can look back on many highlights over the past decades. A lot of famous plays had their premiere at the Festival, such as Tom Stoppard's groundbreaking absurd piece Rosencrantz and Guildenstern are Dead. Past performers range from comedy geniuses such as Rowan Atkinson, Billy Connolly and members of Monty Python to acclaimed actors including Derek Jacobi and Emma Thompson.
Edinburgh Festival Fringe 2016: What to See?
Taking your pick from more than 3,000 shows is certainly not easy, which is why we want to help you by giving you some recommendations. A show that comes with rave reviews, for instance, is Last Dream (on Earth). The performance takes place at the Assembly and is characterised by the use of headphones. It tells the story of Gagarin's 1961 space journey interwoven with accounts of the travels of modern-day refugees. Via headphones the audience is exposed to music and sound effects as well as the disturbing presence of silence.
Another show which mustn't be missed is held at The Hub and stars The Good Wife actor and Scotland's darling Alan Cumming. In his Alan Cumming Sings Sappy Songs he pays tribute to his legendary Broadway after-show parties by letting the audience in on intimate details and by volunteering a song or two. Better prepare for a night of naughty entertainment!
Parents of aspiring artists should make sure to see the Guilded Balloon's show Sweet Child of Mine, in which theatre-maker Bron Batten discusses her life as an artist and all its implications on stage with her parents. In the year marking his 400th anniversary, Shakespeare must obviously be represented as well: Fans of the bard should venture to the Pleasance, where Hamlet in Bed is staged. Michael Laurence's play is a film-noir inspired, dark and twisted version of Shakespeare's play starring a brooding protagonist on his search for his birth mother.
Whoever thinks that their own everyday pub shenanigans would make a good story, needs to go the the Jinglin Georgie Pub to catch a performance of Early Doors. The pub sets the stage for soap opera drama and it never really becomes clear whether your G&T was actually prepared by bar staff or one of the actors. A more sinister show is simultaneously staged at the Underbelly: In Manual Cinema's Ada/Ava shadows, screens and projectors serve as means to tell a story of loss and isolation in a New England gothic setting.

Reach the Edinburgh Festival Fringe by Bus
Whatever you opt for in the end – the Edinburgh Festival Fringe is always worth a visit. There are numerous free shows and plenty of pay-what-you-want performances so that your trip to the Scottish capital doesn't need to be too pricey. You can also use CheckMyBus to look for affordable bus travel options. Edinburgh is well connected, so you can choose from numerous rides. Here's some examples:

Bus from London to Edinburgh, megabus, from £3.35


Bus from Manchester to Edinburgh, National Express, from £8


Bus from Birmingham to Edinburgh, National Express, from £10


Bus from Glasgow to Edinburgh, megabus, from £8


Bus from Newcastle-upon-Tyne to Edinburgh, megabus, from £3.35


Bus from Aberdeen to Edinburgh, megabus, from £1
Share this post: