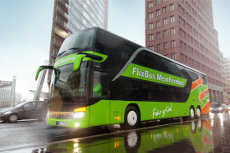 After having been heavily debated for a few months, the "Macron Law" was officially adopted by the French Parliament mid-July. The law aims to strengthen the French economy's development in numerous areas with various measures, including the liberalisation of the intercity bus market in France.
Up until now, the French state railroad SNCF has dominated the long-distance passenger transport within the country since intercity buses could only operate in France in exceptional cases. However, this is due to change from August on: the government will allow bus providers to operate shorter distances at first and by the end of the year, they should also be authorised on longer routes throughout France.
The market liberalisation seems not only lucrative for the French but also for the European bus companies since estimates for the upcoming year expect between 4 to 5 million potential intercity bus customers in France, and counting. In order to be well-prepared for the market launch, the bus providers have been setting out their strategies over the last months. For a while now, megabus has been offering bus rides from major French cities to destinations all over Europe, such as the UK and Germany or Belgium and the Netherlands. Earlier this year, they introduced a new line from Germany over France to Spain and more recently, they announced the operation of a bus connection from London to Milan with stops in Lille, Paris and Lyon. The low-cost coach company also opened a base in Belleville-sur-Saône, north of Lyon, which it uses for customer services and vehicle maintenance. Currently, megabus' routes in France are mostly limited to international rides in and out of France, but the bus provider supports the liberalisation and hopes to be able to offer more services to the French customers soon.
Of course, the competitors are also taking part in the race for the leading position in the French bus market. The German bus operator FlixBus plans to open many connections within France as soon as they are officially approved, with Paris as its pivot. Besides, the French companies like iDBUS – an affiliate of the French state railroad – and the recently launched isilines plan to massively expand their route networks to attract customers, too.
Since the French population still has resentments against the liberalisation of the intercity bus market, the coach providers put even more emphasis on the advantages of buses over other means of transport. Even if the trip may be a little longer than by train, the bus represents a perfect alternative for easy and convenient travelling thanks to comfortable seats, spacious legroom and free Wi-Fi. Moreover, the affordable ticket prices are attractive both for early birds and spontaneous travellers. And with the soon-to-be opened race in the French intercity bus market it is expected that the bus companies will try to attract as many customers as possible with numerous opening offers.
Share this post: