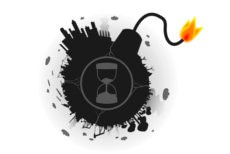 The European Commission (EC) recently presented the new objectives for the Clean Mobility Package Horizon 2030. It sets out the environmental objectives that affect the passenger transport sector and the legislative measures that should be applied to all new vehicles from the year 2025. Although all new vehicles sold thereafter must reduce their emissions by 15% and those sold after 2030 must do so by 30%, the guidelines are considered not very ambitious by many onlookers. The same Commission has also ensured that by 2030 more than 80% of vehicles will still use a combustion engine.
2030 Horizon Clean Mobility Package
The measures included in the new clean mobility package meet the requirements of the Paris Agreement. Taking into account that the last maximum emission set by the EC is 95 grams per kilometer for cars, the new measures should reduce it to 80 in 2025 and 69 in 2030 (15% and 30% respectively taking the year 2021 as reference).
This is the second mobility package of the year with the aim of solidifying the principles previously marked in concrete measures. Last May, "Europe on the move" was presented, hoping to create clean, competitive and connected mobility. The initiative contained measures for a general guideline in regards to environment and climatic change, societal issues, infrastructure, digitalization and new technologies, among other topics.
Measures Used to Meet Set Objectives:
The primary objective of these programmes is not only to reduce CO2 emissions, but also to increase competitiveness in the mobility market, an industry which employs over 11 million people. The initiatives also include a range of improvements in transport, such as making traffic safer and securing a standard for working conditions for employers. These goals are to be met through a variety of measures, which include:

Facilitating manufacturers to comply with the objectives and new standards on CO2 emissions.


Promoting clean mobility solutions in public procurement tenders.


Increasing investment and acceptance of alternative fuels.


Encouraging the combined use of several modes for transporting goods.


Expanding long distance coach networks throughout Europe as an alternative to private vehicles.
Share this post: