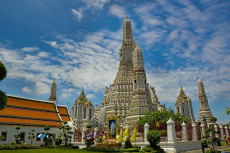 As the chilly winter months are approaching, many travellers with itchy feet are looking for a sunny escape. It's the perfect time to visit Southeast Asia! While the prospect of travelling so far might seem daunting, the reality is that the plane ticket will likely be the most expensive part of your trip as affordable hotels, restaurants and bus travel can easily be found in countries such as Cambodia, Vietnam and Thailand. With a diverse range of natural wonders, heritage sites and more cultural events than you could fit into a two-week holiday, cities throughout Southeast Asia make the perfect winter escape.
Travel to Cities Throughout Southeast Asia by Coach
Whether you want to travel to Ho Chi Minh City, Bangkok, Siem Reap or cram in as many cities as you can, catch a bus and plan your perfect holiday in Southeast Asia.
A Lively Outing in Bangkok

Thailand's capital and largest city, Bangkok offers no shortage of historic monuments, cultural attractions and delicious cuisine. Bangkok is extremely diverse and has more visitors each year than any other city in the world. Ornate temples, a grand palace and the city's famous floating markets all make it well worth a visit.
Available Connections

Bangkok to Phnom Penh with Virak Buntham starting from £20.92


Bangkok to Sihanoukville with Olongpich Transport starting from £21.79


Bangkok to Kampot with Champa Mekong starting from £30.51


Bangkok to Siem Reap with Virak Buntham starting from £15.69
City Break in Ho Chi Minh City

High rise buildings, beautiful pagodas, and a lively hustle and bustle give Ho Chi Minh City an undeniable energy, making it the perfect destination for a city break. Formerly known as Saigon, the city provides a seamless blend of ancient history with a chic and exciting modern cityscape.
Available Connections

Ho Chi Minh to Siem Reap with Mekong Express starting from £19.18


Battambang to Ho Chi Minh with Virak Buntham starting from £17.43


Ho Chi Minh to Sihanoukville with Mekong Express starting from £19.18


Ho Chi Minh to Kep with Champa Mekong starting from £17.43
Dazzling Spires in Phnom Penh

A glimmering royal palace, Buddhist temples, and the scenic banks of the Mekong River, Cambodia's capital city is a feast for the eyes. Phnom Penh was once considered the Pearl of Asia before a tumultuous period of war and revolution. Today, the city is on the rise with a thriving café culture, exciting night life and world-class cuisine.
Available Connections

Phnom Penh to Ho Chi Minh with Khai Nam starting from £8.72


Phnom Penh to Siem Reap with K.S.O. Transport starting from £4.36


Phnom Penh to Sihanoukville with Phnom Penh Sorya starting from £5.23


Phnom Penh to Mondulkiri with CamboTicket starting from £7.84
See the Ancient Ruins of Angkor Wat in Siem Reap

Attracting over a million tourists each year, Siem Reap is one of Cambodia's most visited destinations. People travel from all over the world to see the grand ruins of Angkor Wat. But aside from these iconic temples, Siem Reap offers a wide array of cultural opportunities and no shortage of natural beauty.
Available Connections

Siem Reap to Ho Chi Minh with Mekong Express starting from £19.18


Siem Reap to Sihanoukville with Virak Buntham starting from £11.33


Siem Reap to Kampot with Champa Mekong starting from £15.69


Siem Reap to Poipet with Virak Buntham starting from £6.10
Share this post: