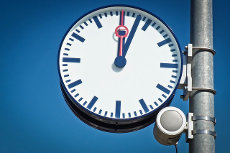 The self-imposed goal of a punctuality rate of 82% in long-distance traffic is, according to Deutsche Bahn CEO Richard Lutz, in the distant future. Time and time again, there have been delays. In August 2018, only 70% of long-distance trains arrived at their destination on time. Passengers affected by a train delay currently receive a maximum of 50% of the ticket price. This should change from 2020 according to the European Parliament.
In the UK, despite a steady increase in punctuality and passenger satisfaction, CEO of GTR Charles Horton had admitted having been delayed by his own trains. Delays have been fairly frequent. Despite an overall satisfaction rating of 72%, Southern Rails has reported a satisfaction with punctuality and reliability of just 57%. Many of these delays have been the result of rail strike action and rail works, which has limited the number of trains operating on certain routes and has created more passenger congestion.
The EU wants to significantly increase passenger rights, which were last updated in 2009. In the future, travellers should be able to get back half of the ticket price in the event of a delay of more than 90 minutes. With a delay of up to two hours, passengers will then receive 75 percent of the price back. If the train is delayed for more than two hours, travellers should then be reimbursed the full ticket price. This should apply even if the train is used despite the delay. Even those who change and independently make two separate bookings should be compensated in the future as it had been a single booking.
| | |
| --- | --- |
| Current Compensation | Compensation from 2020 |
| > 60 minutes: 25% of the fare paid | > 90 minutes: 50% of the fare paid |
| > 120 minutes: 50% of the fare paid | 90 to 120 minutes: 75% of the fare paid |
| – | > 120 minutes: 100% of the fare paid |
Train operators and long-distance coaches should not be able to continue relying on extraordinary circumstances. The controversial clause has already provided enough uncertainty and anger from frustrated airline passengers; if a flight is delayed due to external circumstances, such as storms or strikes, travellers have no right to compensation.
In addition, the European Parliament calls for travellers to be better informed about their rights. Including a note on the ticket is a conceivable solution for this. The process is also to be simplified: it cannot be that passengers can easily book and pay for their tickets via an app but must apply for their compensation in the event of a delay by completing a form.
The European Union also wants to ensure that there are more bicycle seats on trains and will require that travellers in need of assistance should be able to request support for boarding or loading luggage in a quicker manner.
However, before passengers can enjoy these added rights, they must first be negotiated with the EU Council as well as the EU Commission before being implemented in 2020.
Share this post: