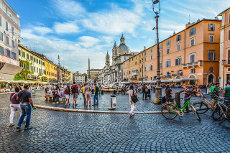 Spring is finally here, which means that it's about time to spend a bit more time outdoors. While Europe features a vast array of breath-taking landscapes which are perfect for long walks and hiking tours, its cities can boast itself of some of the most beautiful squares in the world. Here are a few examples of Europe's most picturesque city squares!
How to reach Europe's most beautiful squares by bus
Europe is not only rich in cultural heritage but also in affordable travel options. Thanks to a well-structured international coach network, it's easy to reach each one of our examples by bus. Simply use our search engine to look for the cheapest tickets and book your next trip. Remember: the next bank holiday is just around the corner!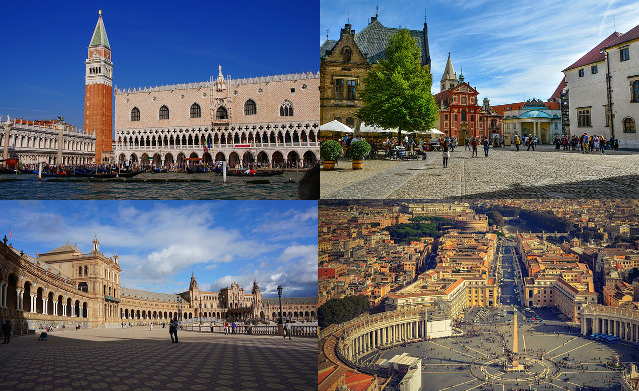 From top left to bottom right: Piazza San Marco, Venice – Old Town Square, Prague – Plaza de España, Seville – St Peter's Square, Vatican City
Piazza San Marco, Venice
Pizza, pasta and gelato – what place would be better to indulge in Italian cuisine than the Piazza San Marco in Venice? Napoleon is said to have called it the "drawing room of Europe" in reference to its many architectural masterpieces including Doge's Palace and St Mark's basilica. The origins of the square date back to the 9th century when it was just an unpaved spot of green and used for public announcements. Today it is known as one of the most beautiful and vibrant squares in the world, not only in times of the famous Venetian Carnival.
➠ Bus routes to Venice
Old Town Square, Prague
Prague's Old Town Square is located between Wenceslas Square and the Charles Bridge and is one of the liveliest parts of the Czech capital. Although the square is home to many monuments and churches, its main attraction is the medieval astronomical clock, which was installed in 1410 and is the world's oldest astronomical clock still in operation.
➠ Bus routes to Prague
Plaza de España, Seville
In contrast to many other European squares, the Plaza de España in Seville is a fairly young public square: It was built in 1928 to showcase Spain's technological and industrial exhibits at the Ibero-American Exposition of 1929. The main building was designed by Aníbal Gonzáles, who mixed many Spanish styles including 1920s Art Deco. It is located in the Parque de María Luisa and is thus a very green space featuring fountains, bridges and hundreds of plants providing it with a paradisiac flair.
➠ Bus routes to Seville
St Peter's Square, Vatican City
It is not just for the Pope's sake that St Peter's Square in Vatican City is one of the most famous public places in the world. The square was designed in the 17th century by command of Pope Alexander VII, who wanted to have a square that would enable thousands of people to receive the Pope's blessing at the same time. One of the most striking features of St Peter's Square is the ancient Egyptian obelisk right at its centre, which had actually been erected about 100 years before the square itself was designed. The trapezoical base shape of St Peter's Square has been claimed by many to represent a masterstroke in its reminiscence of Baroque theatre; however, it is now know that the design was chosen due to spatial restrictions.
➠ Bus routes to Rome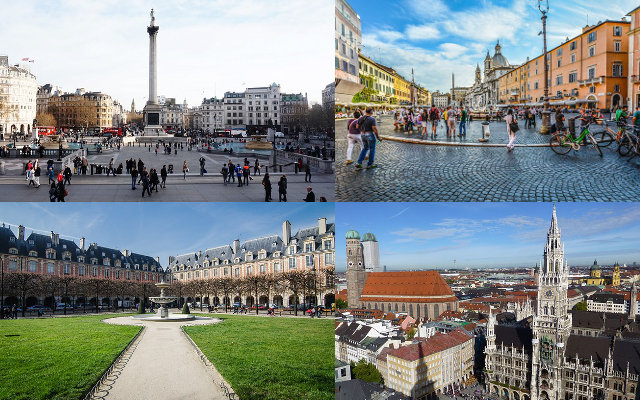 From top left to bottom right: Trafalgar Square, London – Piazza Navona, Rome – Place des Vosges, Paris – Marienplatz, Munich
Trafalgar Square, London
Trafalgar Square is located in the centre of London and supposed to commemorate the Battle of Trafalgar, a British naval victory. Its main features are the National Gallery building on the square's north side and Nelson's Column in the middle of Trafalgar Square, which is guarded by four lion statues. There are four plinths to be found on the square with three of them featuring statues and memorials while the fourth is left empty and hosts specially commissioned works of art, which tend to change every few months. Fun Fact: During construction works in the 1950 glacial deposits were found, including the remnants of a rhino and elephant.
➠ Bus routes to London
Piazza Navona, Rome
Since the 15th century Piazza Navona in Rome has hosted the city's market, which is why it was decided that it needed to become a bit more representative. Therefore, the square has basically been reconstructed in the 17th century and has since become one of the most famous examples of Baroque Roman architecture featuring numerous statues and fountains. The most famous one is probably the Fountain of the Four Rivers, which featured prominently in Dan Brown's bestseller "Angels and Demons".
➠ Bus routes to Rome (see St Peter's Square)
Place des Vosges, Paris
In the 17th and 18th century the Place des Vosges – then called Place Royale – was the place to see and to be seen. It is the oldest planned square in Paris and was basically where the nobility and aristocracy met to discuss latest trends in fashion or court rumours. Only after the French Revolution was it renames to Place des Vosges. The square is characterised by its neat and structured layout with every building basically looking exactly like the other, thus evoking a sense of architectural perfection. Some of the square's most famous inhabitants include the novelist Victor Hugo and the politician Cardinal Richelieu.
➠ Bus routes to Paris
Marienplatz, Munich
Marienplatz has served as Munich's main square ever since 1158, however, it only received its name much later, namely in the 17th century, when the Marian column was erected to symbolize the end of Swedish Occupation during the Thirty Years' War. The main attraction of Marienplatz is the Glockenspiel on New City Hall. It features life-size figures and tells two distinct stories from the 16th century: The first one represents a medieval jousting tournament, in which – obviously – the Bavarian knight wins; the second one consists of Munich citizens dancing on the streets in times of the Plague signifying perseverance and loyalty. The actual dance is performed in Munich every seven years.
➠ Bus routes to Munich
Share this post: