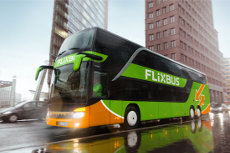 When the German market for intercity buses was liberalised in early 2013, the then start-up FlixBus instantly reacted and set up a booking platform for this brand-new and affordable way of travelling. More and more small bus companies joined and had their buses redesigned to openly promote the brand FlixBus and its characteristic green colour (smartly symbolising the positive effect on the environment that this new transport option naturally went hand in hand with). Within only a few months and thanks to the takeover of several competitors including the continental European business of British company megabus, FlixBus became the clear market leader in Germany with a market share of more than 90 per cent.
FlixBus in Europe
This exceptional story of success, however, is fraught with some obstacles: FlixBus' has been going for the European market for a while now but not every country is enthusiastic about the green buses.
Switzerland: An old law gets in the way
According to Swiss law, only a Swiss company is allowed to transport either persons or goods on domestic connections. This is called "cabotage" and stands in the way for FlixBus as the company is based and registered in Germany. Nevertheless, FlixBus is keen on properly entering the Swiss market as it is known for its expensive ticket prices for travel of any kind. At the moment, the green buses serve stops in twelve Swiss cities but are only allowed to transport people on cross-border connections, e. g. to destinations in France, Germany or Italy. The problem, however, is that Swiss people might be inclined to book an international connection but actually get off earlier at a stop within Switzerland. Since one case could already be documented by the police, FlixBus was charged a small fine. A solution would be the establishment of a Swiss subsidiary but – as of now – this seems not to be one of the priorities on the FlixBus agenda.
France: "Loi Macron" paved the way
In his capacity as minister for economics, the current French presidential candidate Emanuelle Macron paved the way for the liberalisation of the French intercity bus market in summer 2015. FlixBus didn't hesitate, founded a subsidiary and quickly launched its first routes in France. Nowadays, basically all of France is covered in FlixBus routes with connections being available between all larger cities and points of touristic interest. The German coach company even managed to get market leadership by leaving behind its most potent French competitor OUIBUS, a subsidiary of the French national rail SNCF.
Austria and the Netherlands: Lack of competition
In Austria and the Netherlands, FlixBus successfully offers both domestic as well as cross-border connections. While about 3.3 million Dutch travellers made use of the green buses in the last two and a half years, there were 2.7 million Austrian passengers on board in 2016 alone. The majority of FlixBus' Austrian routes is operated by the national bus companies Blaguss and Dr Richard. However, like SNCF in France, the Austrian national rail would also like to claim its piece of the market and has therefore launched its bus subsidiary Hellö, which currently operates connections to 25 destinations in large parts of continental Europe.
Italy: Anti-FlixBus-Law failed
FlixBus has been a matter of debate in Italy for the last few months. Four politicians from Apulia presented a change to an already existing decree according to which only those companies are allowed to transport passengers whose main business is passenger transportation. With regards to FlixBus, however, this is not the case because the company does not own any buses but instead provides a booking platform. The actual bus journeys are operated by subcontractors. Consequently, the so-called Anti-FlixBus-Law would have signified the end of FlixBus' Italian endeavour. The law, however, ultimately failed which meant a last-minute rescue for the green buses.
Nevertheless, new and fierce competition was presented at a bus exhibition at Berlin last week. The newly founded Italian company Busitalia Fast – a shared endeavour by the Italian national rail FS and the established bus operator Simet – will launch routes in Italy and Germany connections 90 cities in the beginning. A swift expansion across Europe is the pronounced goal of Busitalia Fast. The company states that its aim is to become the "main international long-haul player".
Germany: Potential obstacles
Resulting from the takeover of several competitors, FlixBus now has a market share of over 90 per cent in Germany. Nevertheless, it's not all easygoing for the bus company. Its inexpensive ticket prices might have to be adjusted in the future if a potential toll for buses takes effect, which is currently the matter of debate in German politics. Another such issue is connected to environmental protection laws: In Germany, only vehicles of certain emission classes are allowed to access select city centres. If this law gets stricter – another matter of debate – many older generation buses might be refused access to cities such as Stuttgart, Frankfurt or Berlin. Accessibility is another topic but the decision in this case was already made in 2013: From January 2020, all buses need to be equipped with two wheelchair spaces – something that right now only few buses in Germany have.
Scandinavia: On goes the expansion
The latest target market on the FlixBus agenda is the Scandinavian one. With the launch of the subsidiary FlixBus Nordics, first cities in Sweden and Denmark have been made part of the international network. In early April, the first FlixBuses stopped in Oslo making it the first Norwegian stop served by the German provider. How established Scandinavian coach companies such as Swebus will react to the new competitor and whether FlixBus will be a success with the Scandinavian public remains to be seen.
The UK: A blank space (for now)
Although FlixBus acquired the continental European network of the British low-cost bus company megabus a while ago, the British Isles remain a blank space for the ever-expanding company as of now. The only FlixBus stop in the United Kingdom is currently London, which is part of cross-border connections from Amsterdam, Paris and some other metropolises. If and when FlixBus will also connect other British cities in the future remains unclear for now.
Share this post: