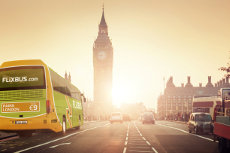 The German intercity coach market was liberalised in early 2013 and bus providers have been fighting over customers ever since. Active competition has resulted in particularly inexpensive ticket prices and in a high level of comfort on intercity coach trips. While free WiFi and a vast amount of power outlets are standard features, some German providers even go a step further and offer even more entertainment. For instance, you can use your smartphone or tablet to access a media centre, which allows you to access numerous films or an extensive music library. One of these high comfort bus providers is the German market leader FlixBus, which has only recently launched its first low-cost bus route to the UK.
With more than 20 million customers last year, FlixBus is one of the most important bus companies on the continent. The company was founded in Germany in 2013 and has strived towards its European expansion ever since. To achieve this aim, subsidiaries such as FlixBus Italia and FlixBus France have been launched. On 24 March, FlixBus finally set sails for the UK as well by installing a bus connection from Paris to London. Customers can choose between two departure times per day and have the chance to get their hands on tickets starting from £9. Up to now, the cheapest ticket had been offered by Eurolines UK and cost £15 including a booking fee of £5.
FlixBus has already announced that Victoria Coach Station in London will not be their only bus stop in the UK: "We are soon going to connect the UK day and night to important hubs of mainland Europe. Besides, we want to extend our service to other destinations in England. Travellers will benefit from green, affordable mobility and the best service," claims André Schwämmlein, Managing Director of FlixBus. All in all, this is good news for coach travellers in the UK. Whenever FlixBus entered an established coach market, such as the one in Italy, large-scale price cuts were the result. Existing coach companies were forced to react to the new German competitor and their first resolution were usually special offers and deals. Although it remains to be seen how exactly the UK's coach companies such as megabus and National Express will deal with FlixBus, the German market leader will surely prove to be a force to be reckoned with.
Share this post: