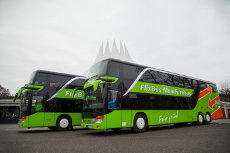 The ongoing success of intercity buses in countries such as the UK and Germany may have inspired yet another nation to liberalise its market for intercity bus journeys, fostering competition between buses and national railway services. Last week France passed the bill for economic growth, activity and equal opportunities, which allows for the extension of shop opening hours, the deregulation of select job requirements and the establishment of national intercity bus routes.
Although 61 percent of the French citizens are in favour of the bill, its passage cannot be considered an uncontroversial endeavour. Emmanuel Macron, France's Minister of Economy, Industrial Renewal and Information Technology and composer of the bill, is expecting resistance from within his own ranks. In order to pass the law despite missing votes the Prime Minister of France, Manuel Valls, appealed to an emergency paragraph in the French constitution, which would enable the government to put its plan into operation without an official vote in the National Assembly. However, the opposition is by implication authorised to pursue a vote of no-confidence. This has already been requested, though it is ultimately expected to fail. Apart from a few exceptions, the French law currently permits only cross-border connections.
For the time being, providers of intercity buses that pass France are obliged to prove that more than half of their passengers are on their way to international destinations. The few existing national connections, such as Paris-Lille or Lyon-Paris are operated by iDBUS, a subsidiary of the national French railway SNCF. Some international bus providers are also already servicing bus stops in France: Eurolines Germany and Berlin Linien Bus, for instance, both offer journeys from Berlin to Paris. The liberalisation of the French intercity bus market is likely to result in an increase in bus connections to and from France. After an estimated preparatory period of six months, French intercity buses are expected to hit the road in September. In the meantime, customers can look forward to cheap bus journeys to Paris, Nice or Marseille. Especially with regard to the recently merged German intercity bus companies, MeinFernbus FlixBus, and their expansion plans – that include new bus lines to Paris and Brussels – the liberalisation of the French intercity bus market might mark yet another step towards the establishment of a large-scale European intercity bus network.
Share this post: