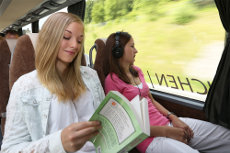 The British intercity bus provider megabus UK has recently launched its first bus route linking the UK and sunny Italy. Since 8 July, passengers can travel from London all the way to the north Italian fashion capital Milan. Several other attractive destinations are also serviced on this bus line, including Lille, Paris, Lyon and Turin. Bargain-hunters will be especially pleased with the new offer as prices for all journeys by intercity bus start at £1 only.
Milan is one of the most important centres for fashion in the world but also offers numerous attractions and sights beyond the sizzling flair of the biannual fashion week. The city's awe-inspiring architecture alone is certainly worth a visit. While only few of Milan's medieval buildings survived, the city is still rich in stylistic diversity. Gothic edifices stand next to Neo-Romanesque palaces and dazzling Art Nouveau structures. Milan's most well-known and most beloved sight is certainly the cathedral Santa Maria delle Grazie, which is home to one of the most famous paintings in history: Leonardo da Vinci's "Last Supper". Apart from offering a multitude of popular landmarks Milan is well known as any shopaholic's paradise. Fashionistas can stroll the streets of quadrilatero della moda and delve into the lastest Haute Couture. Visiting the Galleria Vittorio Emanuele II is also a must when travelling to Milan. The world's oldest roofed shopping alley is the perfect spot for an extensive shopping spree.
Travellers currently visiting Milan can be part of an extraordinary event, the Expo 2015. The Universal Exhibition is currently taking place in Milan and is set to keep its doors open until late October. More than 140 countries take part in this exciting fair by setting up pavilions to represent their nations and what they have to offer. Since every country is different, there is a lot to see and discover at the vast exhibition centre just outside Milan. This year's Expo was assigned the motto "Feeding the Planet, Energy for Life", which focuses especially on healthy and environmentally friendly ways of growing and producing food.
Milan is certainly worth a visit – no matter whether you want to discover the Expo, have a look at the city's beautiful sights or you simply fancy to shop 'til you drop. The intercity bus providers' cheap fares will allow you to make the most of your holiday. Our search engine helps you to find the best available bus offer at a glance: Seize your chance to travel to Milan for £1 only with megabus UK.
Share this post: