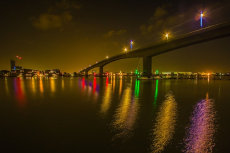 UK transport company Go-Ahead is not only working to reduce the carbon footprint of its buses but is hoping to actually fight air pollution with them. The company believes that buses can be a possible "solution to the air quality program." Go-Ahead's prototype will have a rooftop filter designed by Pall Aerospace, which produces similar systems for planes and marine systems. Last month, the company unveiled its Bluestar Bus in Southampton, with the filtration system on the roof the vehicle to improve the city's air quality as it moves through the city.
Improving Air Qaulity in the UK, One City at a Time
According to the World Health Organisation(WHO), air pollution is the world's largest single environmental health risk and was linked to roughly 7 million deaths around the world in 2012. WHO figures also designate Southampton as one of the UK's worst cities in terms of air pollution, which was why the southern city was selected for the site of the prototype's initial trials. The diesel bus is fitted with a barrier-type filtration system that works to remove ultra-fine particles from the air and traps them during the buses regular routes through the city. The filter than allows the vehicle to produce more pure air so that the air behind it will be left cleaner than the air to the front.

The Future of Air Filtration on Buses
Go-Ahead's CEO David Brown said that if the Southampton trial is successful than Go Ahead's entire fleet of over 5,000 buses could incorporate this technology. The goal is to show that buses can be both a solution to traffic congestion in larger urban areas as well as the air quality problem. Brown says, "We are going a step further in the potential for our buses to actively clean the environment. It's a huge development in our environmental leadership and we are also proud to be pioneering the prototype in the UK."
Share this post: