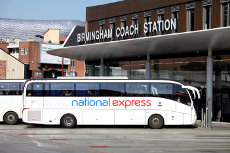 When travelling on the UK's motorways, you're very likely to spot a National Express coach. The famous coach operator basically connects all of the country's cities and towns, from A for Aberdeen to Y for Yeovil, and counts around 19 million journeys per year. In 2017, National Express is celebrating its 45th birthday and the operator is showing no sign of slowing down (figuratively, that is)!
45 years of National Express
The history of National Express started in 1972, when some individual coach companies operating scheduled services were merged under a single brand, then called "National". Only two years later, the current name "National Express" was used for the first time.
While the coaches back then were equipped with rather scratchy seats and were more or less considered to be a means to an end, travellers can nowadays benefit from numerous comfort features ranging from leather seats to free WiFi. In 2016, National Express even launched an in-house infotainment system called VUER, which allows you to stream TV shows or films on your own phone or tablet pc. This way, you'll never be bored, not even when you're travelling on the company's longest bus route, which takes you from London to Inverness, covering 582.3 miles.
"People have grown up with National Express and we've made memories by connecting people all over the country with their friends and families. We're proud to be a fixture of the UK's roads and play our part in the journey of people's lives." – Managing Director Chris Hardy
National Express in numbers
Over 900 stops in the UK
Since January 2017: 25 million road miles covered, which equals travelling around the world more 1,000 times
More than 750 million bus journeys were sold in the last 45 years
Fares start at 1p per mile (A little hint: Check for current National Express Deals to travel even more affordably!)
About 1,600 drivers currently work for National Express
Instead of going for the more traditional horse-drawn carriage, one bride simply took a National Express coach to church
Share this post: