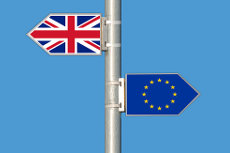 The UK has voted: A slender majority of 51.9 per cent of the Brits have decided in favour of leaving the EU and to pull off Brexit. While this is likely to cause repercussions in many areas such as economics, trade and politics, the travel industry will presumably also be affected by the changes brought about by the outcome of the Brexit referendum.
Travelling after Brexit: How going abroad will change for UK travellers
On CheckMyBus you can find answers to the most important questions regarding your post-Brexit holiday plans, ranging from a potential rise in cost to healthcare and insurance issues.

Airfares: Higher prices for plane tickets
Ahead of Brexit, airline executives have warned of a potential rise in airfares. Carolyn McCall, chief executive of the budget airline easyjet, has argued that a shared European aviation area has resulted in more connections and a cut in prices by about 40 per cent. Now that the UK will leave the EU, Britain's share of the aviation market will have to be renegotiated. Leaving the European Common Aviation Area is likely to result in stricter regulations, less competition and eventually in more expensive plane tickets. However, Norway is a good example that this scenario is not bound to happen: Although the Scandinavian country is not part of the EU, it still has access to the single aviation market.
Entry Requirements: Do I need a visa to go to Spain?
Concerning entry requirements when going abroad, there should be no severe changes after Brexit. The UK was never part of the Schengen Area, which basically represents a shared travel area within Europe that consist of 26 countries. Basically, with regards to travelling these countries represent one single country and therefore there are no border controls between the individual states but it is characterised by free movement. Since the UK was not part of it, British travellers have always had to face border controls and the need for passports.
Shopping abroad: Return of duty-free shopping at the expense of stricter limits
After leaving the EU, stricter regulations might apply concerning goods brought back to the UK from holiday. This is particularly true for cigarettes and alcohol. Brits going on holiday on the continent or going on a so-called "booze cruise" to France, are currently allowed to bring back 800 cigarettes, 110 litres of beer and 90 litres of wine. Travellers from non-EU countries, however, are restricted to 200 cigarettes, 16 litres of beer and 4 litres of wine. On the other hand, however, Brexit might also result in the return of duty-free shopping, since the right to buy goods tax-free when going to another EU country was abolished in 1999. Then again, duty-free shopping is only a small consolation when taking into account that the pound sterling dropped by 11 per cent in the night after Brexit. Nevertheless, the long-term development of the pound sterling is only very hard to predict and the Leave Campaign has argued that the currency might also be strengthened by an independent United Kingdom.
Rights and Fees: Healthcare, Passenger Rights and Roaming
Another Brexit implication is connected to the issue of healthcare. At the moment, British travellers who want to go to the continent can get a free European Health Insurance Card (EHIC), which entitles them to medical care abroad. The terms for this service will have to be renegotiated after Brexit. A further aspect of travelling concerns potential delays or other issues that might arise when booking a holiday package. Leaving the EU could result in British travellers not being entitled to EU passenger rights anymore. So, should a flight or bus be late or cancelled, the terms for compensation, assistance and care will have to be newly defined as well. The same goes for financial security when booking a holiday package. A minor but nevertheless important aspect for modern travellers are mobile phone fees. In June 2017, roaming fees will be abolished in the EU – what this means for British travellers going to the continent remains to be seen.
---
While Brexit will certainly have some implications for UK travellers, you should be aware that any plans currently made are not likely to be affected by the result of the referendum. The UK will get a two-year window in which all the details of the departure can be negotiated. This means that it will take a while longer before British travellers can be sure about the true implications of Brexit on their summer holidays.
Share this post: