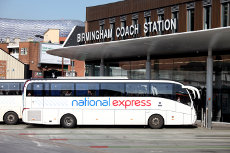 Taking the coach is known to be a highly eco-friendly and also safe way of travelling. However, in order to improve their services even further, coach companies are currently opting for highly innovative technologies. Last week, for instance, the UK's largest coach company National Express signed a multi-year contract with Lytx DriveCam, a video capture system which is supposed to take bus travel safety to the next level.
Following a successful trial of the new technology, National Express decided to install the video surveillance on its UK bus fleet, which consists of more than 700 vehicles. Video cameras on board of the coach record the road as well as the bus driver's actions. If something out of the ordinary occurs, such as hard braking or the sudden abandonment of the traffic lane, a video clip will be sent to Lytx for analysis. If necessary, this file will then be forwarded to National Express for inspection. The video documentation allows the coach company to improve its driver coaching and can also be used as evidence in various situations.
Another reason for the installation of driver surveillance cameras on public transport vehicles can be seen at the example of megabus. In April, the coach company installed video cameras on 2,400 buses in the US. This follows a very successful trial run in the UK. The system called GreenRoad uses video documentation of the drivers' actions as well. However, it is less targeted at safety issues but rather concerned with the ecological footprint of travelling. The main aim of the technology is to teach bus drivers how to reduce petrol consumption. During the trial phase in the UK, megabus managed to cut down the amount of fuel by 3 percent. In order to animate the bus drivers, the technology is directly linked to a reward system. Drivers have the chance to collect so-called "green points", which can later be exchanged for financial benefits. This way, the money saved from the petrol reduction is not going to the coach company but to its most important employees, the drivers.