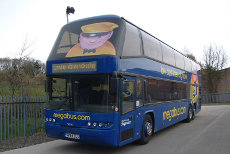 The British intercity bus company megabus started operating in Germany last year and has been steadily expanding its network ever since. The bus operator has now announced its newest strike on the German market: a direct intercity bus connection from Cologne to Barcelona via Frankfurt, Heidelberg, Karlsruhe, Freiburg, Mulhouse, Lyon, Avignon, Montpellier and Perpignan. The trips will be operated twice a day back and forth starting on Wednesday, 3rd of June 2015. Highly attractive prices of just 1 £ per trip are offered for the launch of the new route, spontaneous travelers can now book their tickets for a roundtrip from Germany to Spain at just 2, 50 £ including reservation fees.
Thanks to the new bus line from Cologne to Barcelona, megabus also integrates the cities of Heidelberg, Karlsruhe and Freiburg in its German network. Starting from now, passengers can reach 13 further cities in Germany such as Munich and Hamburg as well as numerous destinations in France and Spain thanks to the megabus connections. The whole network allows them to travel to 110 locations all over Europe.
Intercity buses operated by megabus are transporting roughly 15 million passengers every year in Europe, the US and Canada. The company, founded in Great Britain in 2003 and soon successfully expanding to the North American market, is increasingly conquering market share in Europe as well. megabus is known for its extremely affordable fares starting at just 1 £, which are available for all of their routes and mainly attract students and tourists traveling on a shoestring. The bus operator claims that its current average ticket price is less than 10 £ (15 €) though this does not interfere with the company's high quality standards: all of their modern double-decker buses are equipped with free WiFi and power outlets among other features to guarantee a comfortable and safe travel.
megabus' managing director Edward Hodgson is thrilled to offer German travelers a cheap and quick way to get to Southern Europe. Exciting times are lying ahead for the European intercity bus market since the German competitors MeinFernbus FlixBus and Postbus in cooperation with Eurolines Germany have recently also started their European wide operations so it is to be seen who will become the number one!
Share this post: