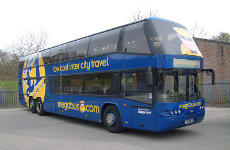 Starting this week, the intercity bus provider megabus will offer its customers a taste of "la dolce vita". And what is best: They offer it on the cheap. The bus company recently announced its latest expansion plans which include several bus routes within Italy. The new connections will officially be launched on 24 June and bargain hunters in particular have reason to celebrate: During the first five days after the Italian network's launch all tickets for any of the new connections will be available for £1 only.
The Italian public shows a keen interest in the new and inexpensive way of travelling. Especially Italy's Deputy Minister of Transport and Infrastructure, Riccardo Nencini, bids the intercity bus welcome: "Enabling everybody to travel in an unrestricted way means enhanced liberty and I would like to convey my sincere thanks to megabus for placing their trust in our country." From next week onwards, megabus UK will service 13 bus stops in Italy, which increases the number of European bus stops, now amounting to a total of 150 destinations in the UK and on the continent. The offer will be operated from within the headquarters in Milan and Florence creating roughly a hundred new jobs. The Italian destinations include bus stops in the eternal city Rome, allowing travellers to follow in the tracks of the ancient Romans and to marvel at well-known landmarks such as the Colosseum or the Vatican City. Venice with its many canals will be another attractive destination for intercity bus passengers, allowing them to continue their journey via one of the numerous "gondole" after having hopped off the bus. The Leaning Tower of Pisa represents another impressive sight, which will now be able to reach in a comfortable yet inexpensive way via intercity bus. Destinations such as Milan, Florence, Naples, Turin, Bologna, Verona, Padua, Siena, Genoa and Sarzana complete megabus' Italian intercity bus network. Milan in particular is slowly becoming one of Europe's most important spots on the intercity bus map. More and more bus companies – including German based bus operators MeinFernbus FlixBus, Eurolines Germany and OneBus – have chosen Italy's fashion capital as their nodal point for southern connections.
Despite the low-cost fares, passengers on the intercity bus will not have to lower their sights where comfort is concerned. For the Italian market in particular, megabus has invested £8m in 23 new vehicles. The bus fleet is equipped with the usual amenities including comfortable seats, a sufficient number of sockets and free WiFi. If you are now longing for some sun, sandy beaches and delicious gelato, you should quickly book your inexpensive intercity bus journey to Italy. Thanks to megabus' attractive £1-tickets you will have enough money left in your holiday fund for pizza, pasta and the occasional glass of vino.
Share this post: