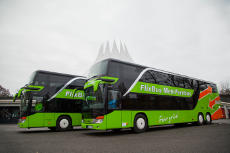 The newly merged long distance bus providers MeinFernbus and Flixbus are planning to provide European wide routes by the end of the year. The current number of 560 coaches is planned to reach 1,000 green colored buses by the end of year. The immediate focus is to merge their individual bus routes into common routes, with a focus on more direct, overnight, expresses routes. For popular routes like Hamburg-Berlin, Cologne-Frankfurt or Stuttgart-Munich the buses from FlixBus MeinFernbus are planned to depart every 30 to 60 minutes. Express routes with no or only short breaks will allow connections between cities such as Frankfurt to Munich (in 4 1/2 hours) or Munich to Cologne in 7 hours. New routes to cities like Brussels and Paris are also planned.
Not only the routes, but additional services will also be improved. Real Time delay information is planned to give the users more details about their trip and customer support through a Chat that will answer all questions quickly. Inexpensive travel with the intercity bus will also offer client bonus programs in the future. "Together we are placing a high importance on a first class user experience. We will continue to focus our efforts constantly also on our customer-oriented approach and the quality – before, during and after their travels. Together we will continue this success story. We want to be the most innovative and most popular long distance bus provider in Europe.", stated Panya Putsathis, founder of MeinFernbus and responsible for client services.
The expansion of the groups' international routes was made possible through an investment from the General Atlantic group, who is specifically focused on supporting the European expansion for the group. The financial sound investor General Atlantic, invested previously in firms like Facebook, the European weather service Meteo, the publishing house Axel Springer and was crucial in the largest IPO of all time with Alibaba.com. "The long distance coach service is a dynamic industry with an incredible growth potential in Europe. Since the liberalization of the German long distance coach industry in 2013, it has grown by leaps and bounds and continues to promise growth for the future. As an investor focused on growth, General Atlantic supports the fusion of the industry leaders in the long distance coach sector" stated Jörn Nikolay, Managing Director of General Atlantic Germany.
Share this post: