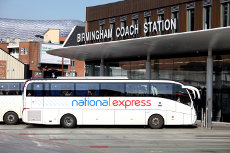 The coach company National Express is getting prepared for a rise in demand during this year's Rugby World Cup. With England and Wales hosting the competition, which takes place from 18 September to 31 October, coach ticket sales are expected to soar. Since tens of thousands of low cost coach tickets have already been booked, National Express is going to provide thousands of extra seats and a special offer consisting in additional Funfares starting at £5 on its most popular routes. Rugby fans travelling in groups can benefit from further discounts: National Express offers 25 percent off for groups of four or more – the tickets are supposed to be booked at least three days in advance.
On intercity bus connections headed for World Cup venues, demand for National Express tickets has surged by as much as 200 percent. The most popular bus route links Cardiff with London. With three stadiums – Twickenham, Wembley and Queen Elizabeth Park – London is the most coveted destination for a coach trip during the Rugby World Cup. Next up are connections to Birmingham, Cardiff, Manchester and Leicester. While demand for the bus route between Cardiff and London went up by 200 percent, National Express recorded a rise by about 50 percent on connections between Bristol and London as well as Leicester and London.
National Express expects about 40,000 travellers heading for Britain's capital, in order to attend Rugby matches. Tom Stables, the company's UK Coach managing director, comments on the surge in demand: "With England and Wales hosting the Rugby World Cup 2015, it's no wonder that tens of thousands of fans across the country are looking for transport to and from matches to see the giants of world rugby go head to head." Whereas extra seats have already been added, the coach company is all set to react spontaneously in case more coach tickets are needed. "We are adding thousands of extra seats to our services and are prepared to keep adding capacity to support as many fans as possible to get to and from the big games." As far as National Express is concerned, no fan shall be left behind, when England is competing for its potential second World Cup title.
Share this post: