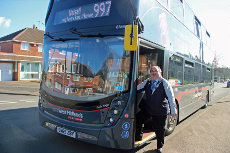 Travellers in the West Midlands have reason to celebrate as the bus company National Express is about to add numerous new state-of-the-art buses to serve the whole of the Black Country. As part of a test run, some of the two-toned grey Platinum buses have been in use since May 2015 and have made journeys more comfortable for passengers from Birmingham, Solihull, Coventry, Walsall and other cities. The vehicles, which are manufactured in Britain, offer free WiFi, an extra spacious leg room and high-backed seats for heightened comfort on bus journeys.
A customer satisfaction survey shows:
98 % of the travellers are satisfied with the comfort on-board the Platinum fleet
96 % of the travellers claimed to be happy with the driving standard
81 % of the travellers find the Platinum bus good value for money
➠ Overall satisfaction rate: 94 %
Apart from a whole new level of comfort, the new National Express buses are also characterized by their improved eco-efficiency. A Platinum bus is much lighter than the average coach and hence causes less exhaust gas pollution. In addition, the new fleet is provided with Euro 6 engines, which are ranked amongst the cleanest engines in the world.
Peter Coates, the Managing Director of National Express West Midlands, is happy about the company's decision to add more Platinum buses in 2016: "We've been running the Platinums for half a year now and we're seeing more people making more trips on them. The X51 from Birmingham to Walsall has seen 25% growth and there's been 10% growth on services to Birmingham International." He further points out that it is not only the passengers themselves, who benefit from the new vehicles: "The Platinum services are good news for everyone who lives in the West Midlands because these new buses mean cleaner air in our city centres. A Euro 6 bus is twenty times cleaner than the old pre-1993 Euro 0 buses."
Share this post: