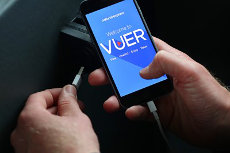 If you always thought that flying is the most comfortable and entertaining form of travelling then be prepared to be disabused of that misconception. Last Monday, the coach company National Express launched the UK's first coach infotainment system allowing travellers to stream film and TV shows on their own devices. In addition, there's multiple other forms of entertainment available via the new on-board feature such as access to numerous magazines, journey information and free WiFi.
National Express has called its latest innovation VUER, short for View, Unwind, Enjoy, Relax. Travellers wanting to make use of the entertainment system simply need to download the free app, which grants them access to more than 100 hours of free content as well as £20 worth of magazines.* While magazines include popular publications such as Marie Claire, Cosmopolitan, Lonely Planet, Time Out and Top Gear, the choice of TV shows covers everything from comedy to drama. A selection of films is going be added in early 2017.
What the coach company is particularly proud of is that – thanks to VUER – National Express is the only transport company offering free access to Sky Sports News featuring the latest football bulletins. In addition, customers can also make use of Soccer AM to keep up to date with the latest Premier League scores.
"Customers will benefit from films, TV and magazines – as well as news and weather updates – completely free of charge, leaving them free to truly unwind, relax and get the most out of their journey. With coach tickets from just £5 one-way and magazines, film and TV thrown in for free, we believe the VUER enables us to offer truly unbeatable value to customers", explains Tom Stables, Managing Director National Express UK Coach.
VUER is currently available on half of the fleet of National Express. The remaining vehicles should be connected by summer 2017.
*Parts of VUER can also be access without the app but in order to enjoy full access, National Express recommends getting the app.
Share this post: