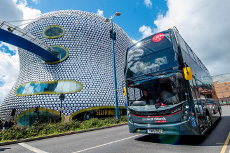 Taking the coach is not only cost-effective but also very comfortable – especially so if you happen to live in the Black Country. The coach company National Express has recently invested £8mio in the addition of 46 Platinum buses. The brand-new vehicles currently operate the 529 service between Wolverhampton and Walsall. More services are supposed to be added in autumn, including the 126 between Wolverhampton and Birmingham.
The new Platinum buses basically pursue two interlinked goals, namely to get more people to take the bus and to increase customer satisfaction. A poll that followed the launch of the first Platinum vehicles in May 2015 showed that a total of 94 per cent of the passengers were happy with the new buses, which promise heightened comfort. Amongst the many features of the Platinum buses – which are produced in Britain – are USB chargers, free 4G WiFi, extra leg room and particularly comfortable seats. However, it's not only the passengers who benefit from the new buses, but also the drivers. A Probax driver's seat cushion is there to improve the seating position and to prevent back pains. In addition, the driver seat can be adjusted to the individual needs more easily by simply inserting preferred settings.
While the buses increase comfort, pollution is cut to a minimum. In comparison to the old vehicles, which have been replaced by the Platinum buses, carbon emissions can be cut by a third. This is due to the reduced weight of the new vehicles and also to the state-of-the-art Euro 6 engine, which is regarded as one of the cleanest engines in the world.
As a very personal contribution to the recent launch, National Express came up with a new idea: The Black Country Platinum buses are all named after female relatives of National Express staff.
Share this post: