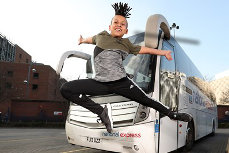 Junior Frood is an awesomely talented 12-years old street dancer who is being granted a free transportation from National Express to pursue his dream of becoming a professional dancer. The dance training takes place in London and his family was struggling very hard to finance the weekly trips from Leeds every Sunday for Junior, his brother Jake and his mum. Thus, his mom explained her extraordinary situation to National Express and asked for support. National Express pledged to provide Junior with free travel financed from a pioneering Youth-Promise initiative. The partnership works with charities such as Whizz-Kidz and is aimed at supporting kids and teens in overcoming boundaries that prevent them from starting a successful life and career – in the case of Junior, the costs of travelling.
National Express Coach Managing Director Chris Hardy said: "Junior is an outstanding talent with a very bright future ahead of him, he is also a shining example to young people that you can make it if you try. We are passionate about bringing forward youth talent through our Youth Promise pledge and we are delighted to provide Junior, his mum and brother with free travel and wish him every success in his career." Moreover, National Express announced that Junior will become a National Express Youth Promise Ambassador for the UK as well.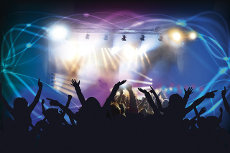 Like Billy Elliot, who also took the National Express bus to London in the film, Junior already achieved several outstanding accomplishments as a dancer at his young age. For instance, he participated at the X Factor's Sam Bailey's UK Tour and, very recently, he premiered in a music video for Izo FitzRoy's new single. Furthermore, having been part of Justin Bieber's "Purpose" World Tour Dance Crew in 2016 certainly must have been an extraordinary experience for Junior.
Thanks to the incredible support of National Express, the first steps are taken to ensure that Junior can keep participating in his dance training.
Share this post: