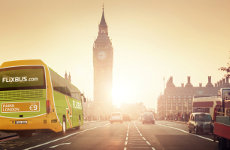 On 24 March, the coach company FlixBus has set foot on the British Isles for the very first time by launching an intercity bus connection from Paris to London. The German market leader, which set out to conquer the whole of Europe, reports that the new coach route turned out to be a great success and states that during the initial run most buses were fully-booked.
In its endeavour to provide for cheaper travel alternatives from Britain to mainland Europe, the company has recently launched further bus routes from London, destinations including Brussels, Frankfurt am Main, Nuremberg and Prague. A transfer to another bus is not necessary so that the passenger can lean back and simply enjoy the ride. On many connections, such as London-Dortmund, FlixBus customers can pick between a trip during the day or an overnight bus. Although the overnight services cannot be compared to those provided by actual sleeper buses, such as the ones of megabus, comfort is still an important aspect for FlixBus: "We realise that travelling isn't just about getting from A to B. Our priorities are based on our ability to provide a set of premium services to contemporary customers." This is why the company offers free WiFi, plenty of electrical outlets and extra leg room. In addition, passengers can access a media centre, which allows them to stream TV shows and films on their own device. This service is free of charge.
Destination from London
Travel Time
Best Price
Nuremberg
16 hrs 50 mins
£26
Prague
20 hrs 20 mins
£31
Brussels
6 hrs 50 mins
£10
Frankfurt am Main
13 hrs 10 mins
£23
Essen
10 hrs 45 mins
£15
Dortmund
11 hrs 30 mins
£15
FlixBus has already announced that London is not very likely to remain the company's only destination in the UK. This means that passengers can look forward to a larger amount of coach travel options to the continent as well as more competition on the domestic coach market. The latter might also result in general price reductions, as FlixBus' entry on the Italian market has only recently demonstrated.
Share this post: