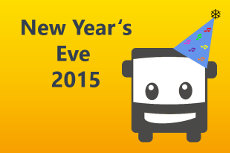 There's only a few days left of 2015 and it's about time to pick a good party location for New Year's Eve. It is not too late to pack your bags and to celebrate the beginning of the New Year in one of the most exciting places in the UK. We looked up three New Year's Eve Celebrations that set the scene for a worthy farewell to 2015.
Our Top Pick: The UK's Best New Year's Eve Celebrations
Take a look at our pick of the most exciting New Year's Eve Celebrations in the UK. If you fancy a trip to Edinburgh, Newquay or Newcastle-upon-Tyne, then you can use our search function to find and book your inexpensive bus trip.
Hogmanay in Edinburgh
While the origin of the Scottish word Hogmanay in still unclear, it's meaning is less obscure: In the Scottish calendar Hogmanay represents one of the most important causes for a thorough celebration. This might also be the reason why the Scottish get not only one but two bank holidays at the start of the year. Since this year 2 January is on a Saturday, 4 January counts as a substitute holiday which means that the citizens of Edinburgh get four days to recover from their Hogmanay celebrations. And they might need it: Edinburgh is famous for its three day New Year's Eve Party and famous guests are to be expected. This year's Concert in the Garden, for instance, is headlined by Lily Allen.
Inexpensive bus connection to Edinburgh:
Edinburgh ↔ Newcastle-upon-Tyne, megabus, starting at £9

Fancy Dress in Newquay
Newquay traditionally celebrates New Year's Eve by staging a big fancy dress party. The city's inhabitants and visitors meet on the streets and come together to watch Newquay's fireworks. The place to be in Newquay is Bar Help: Have some Cornish cider, join the traditional rendition of "Auld Lang Syne" and dance in the artificial snow that the popular bar provides for its party guests.
Inexpensive bus connection to Newquay:
London ↔ Newquay, National Express, starting at £21

Winter Carnival Parade in Newcastle
While last year Newcastle's Winter Carnival Parade was rugby-themed and featured a Haka flashmob, the city decided to go with a more traditional approach in 2015. Wild beasts and scary monsters are supposed to represent the origin of European New Year's Eve traditions. In Newcastle's annual parade, fire and noise are used to symbolise the banishment of bad ghosts in order to create the perfect foundation for a fresh start.
Inexpensive bus connection to Newcastle:
Glasgow ↔ Newcastle, megabus, starting at £10

Share this post: