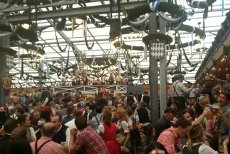 The Oktoberfest in Munich is the largest funfair in the world and attracts about 6 million visitors every year. Roughly about 200 stalls, 80 rides and 29 beer tents are set up on Therese's Green during the last weeks of September and early October. The Oktoberfest was initially held in order to celebrate the marriage of prince royal Ludwig and his fiancée princess Therese. Over the years, the festival has grown and has since become one of the most well-known fairs in the world. As traditional as the fest itself, however, is the annual increase in beer prices. In between 1950 and 2010 the price for a litre of beer rose by 942 percent leading to this year's record average price of €10.22 for a Mass of beer, which equals about £7.44. While visiting the Oktoberfest is fairly pricey, getting there is comparatively cheap thanks to inexpensive intercity bus and coach offers.
The German bus market was liberalised in 2013 and since then coach companies have competed by trying to beat each other's prices. It is not a surprise that during Oktoberfest season, in particular, they lure customers with cheap bus deals. A coach trip from Nuremberg to Munich, for instance, can be booked for about £2.50 with British intercity bus provider megabus. The German company Postbus came up with a special offer for Oktoberfest travellers: During the whole of September every fifth ticket is only £3.60. The cheap tickets are assigned randomly to all of the company's bus lines, allowing even travellers who live further away from the Bavarian capital to still have a chance on one of the bargain fares. Only DeinBus.de ups the ante: As part of its large-scale customer service campaign, the coach company currently gives away 12.820 free tickets. Customers only need a tiny bit of luck when they want to get their hands on one of the gratis fares since the offer is highly coveted.
Britons who are now in the mood for a freshly poured Oktoberfest Mass should not fret, since it's not only Germans who benefit from cheap coach fares and the beer fest is still on until 4 October. Travelling from the UK to Germany is no problem whatsoever. Direct connections from London to Munich can, for instance, be booked via Eurolines Germany and Eurolines UK. The buses take travellers directly from the capital's Victoria Coach Station to the main bus stop in Munich, which is within walking distance to the Oktoberfest on Therese's Green. Another option is to change buses in larger cities such as Cologne: Brits starting their bus journey in London and transferring to another bus in Cologne can rejoice at overall travel costs of only about £30 – even for spontaneous trips to the "Wiesn" (as the Germans call the Oktoberfest).
Share this post: