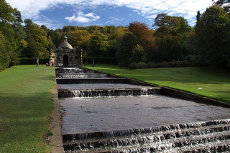 Big Ben, Stonehenge or Edinburgh Castle – the UK boasts itself of a vast amount of cultural landmarks which attract visitors from all over the world. However, the British Isles also offer numerous natural sights and landscapes, which rank amongst the most beautiful places worldwide. In order to give travellers inspiration for spring getaways or for the upcoming Bank Holiday weekend on 2 May, the coach company National Express has asked 1,000 passengers to reveal the UK's most naturally stunning spots.
1. The Peak District Hills
In 1951, the Peak District became the UK's first national park. It covers about 1,440 km² and attracts visitors for the sheer amount of leisure activities on offer. When you spend your holidays in the Peak District you can go hiking, mountain biking, fishing canoeing, amongst other things. Ever since the 16th century, the Peak District area has served as a tourist destination. It reached its peak in the 19th century, when the Victorians travelled to the Peak District for the healing qualities of its water.
Cheap Coach Connections:


London ↔ Weymouth, National Express, starting from £11
2. The Jurassic Coast
The Jurassic Coast in the south of England is listed as one of the UNESCO World Heritage Sites. It spans about 155 kilometres and what is most special about the coast is that the full length of it can be walked. The coastline is made up of Triassic, Jurassic and Cretaceous cliffs resulting in awe-inspiring landscapes. If you have had enough of hiking and walking, then you can go swimming at Chesil Beach for some refreshment.
Cheap Coach Connections:


Liverpool ↔ Manchester, National Express, starting from £2
3. The White Cliffs of Dover

The White Cliffs of Dover are without question one of the most striking natural landmarks in the UK. In the past, the impressive cliffs have served to guard the UK whenever an invasion was ahead. Nowadays, the Cliffs, which are made up of soft white chalk, mark the first and last view of every visitor travelling to the UK by sea.
Cheap Coach Connections:


London ↔ Dover, National Express, starting from £5
Share this post: