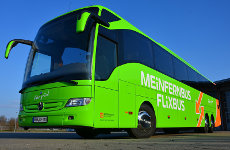 In recent years, intercity bus companies have started more and more connections resulting in very dense national bus networks. However, international destinations have become increasingly important to bus providers as well. The intercity bus company MeinFernbus FlixBus recently announced the introduction of its first international route, which is not directly connected to a bus stop in Germany, the company's home country. As the bus provider progresses towards internationalisation, it benefits from the fact that ever more states, such as France, make plans for the deregulation of the market for intercity bus travels. In addition, MeinFernbus FlixBus profits from the experiences gathered on the German intercity bus market. Against this backdrop, the German bus company wants to secure the pole position in the race for the European market.
The company's first purely international routes will be opened on May, 21st and will lead from Amsterdam via Utrecht and Antwerp to Paris as well as from Paris via Brussels and Liège to Maastricht. A third new bus route will connect Amsterdam with Brussels. An overnight connection will complete the newly opened rides and allow passengers to travel from Paris to Amsterdam fast asleep. Although the new routes have already been announced, what is yet to be determined is the future brand presence of MeinFernbus FlixBus, a bus company, which resulted from a merger between two individual bus providers in early 2015. It stands to reason that the brand FlixBus will be used outside of Germany due to the international appeal of its brand name. The individual websites of the two bus companies strengthen this assumption: Whereas users can choose between six different languages on FlixBus's website, costumers using MeinFernbus are left with the choice between English and German. Concerning the pricing for fares on international connections, the merged intercity bus provider does not stray from its tried and tested track. Inexpensive tickets starting at 5€ will be available, such as for the journey from Brussels to Maastricht. In order to celebrate its latest step towards internationalisation, MeinFernbus FlixBus currently offers low-cost tickets for 1€ valid for the new connections.
The British intercity bus company megabus also offers highly coveted 1-€-tickets from time to time. In recent months, megabus leaped from the British Isles to mainland Europe. With the establishment of bus stops in Germany, the company has positioned itself as a direct rival for MeinFernbus FlixBus. The bus company megabus announced its intention to focus increasingly on new routes in the Low Countries. On May 18th a connection from Rotterdam via Antwerp to Paris will be integrated into the company's bus schedules. Furthermore, the existing route from Brussels to Luxembourg will be expanded by an additional stop in Strasbourg. Connections to and from Italy are also on the bus provider's agenda as well as a connection from Cologne to Barcelona via Lyon. The British bus company regards its European venture as highly lucrative although it has caused operating losses of about £5 million within the last year. The race for the European intercity bus market seems to be in full swing and is likely to result in benefits for travellers: Intercity bus companies are expected to make use of particularly cheap offers and improved service in their vie for customers.
Share this post: