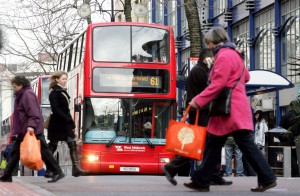 This August is likely to cause many disturbances for travellers and commuters, as several industrial actions lie ahead. The most severe train strikes are to be expected for the Bank Holiday Weekend at the end of the month, when services for both the Transport for London (TfL) and the First Great Western will be reduced or cancelled due to walk-outs. Customers, however, still have the possibility to change to intercity bus services. Bus and coach providers are preparing for the upcoming rail disturbances knowing that their services represent an inexpensive and more than welcome alternative for numerous travellers.
Employees of the TfL will down tools on 26 August and 28 August. The strikes will commence from 9 pm on the day prior to the industrial action. The two walk-outs are set to last for 24 hours and result from ongoing debates about the introduction of overnight tube services. Night shifts are due to begin in September, yet tube drivers fear a significant change for the worse regarding their work-life-balance. The strike will hit the London Underground system – which will mainly affect commuters and tourists, who will have to change to city buses. Transfers from London's airports to the city centre are provided by several coach providers, such as Terravision or National Express. Since its launch of direct connections to Heathrow in early July, EasyBus UK has been connecting all major airports – namely Stansted, Gatwick, Luton and Heathrow – with the heart of the city, which will provide travellers with convenient and inexpensive alternatives to underground and rail services.
Strikes are also expected from employees of First Great Western. Actions have been scheduled for 23 August and 29 August with the first one supposed to last for 24 hours, while the second one is set to cover 72 hours, thus also affecting Bank Holiday Monday. Strikes will be staged in response to the dissatisfaction of members of the Rail, Maritime and Transport Union (RMT) regarding the introduction of new trains. The commissioning of Hitachi trains is likely to result in a reduction of guards and platform staff, as well as the removal of buffet cars and restaurant facilities. The RMT, therefore, calls for a promise from First Great Western, guaranteeing job security. The union claims that the same promise had been granted by East Coast prior to the introduction of new trains. The strikes will predominantly affect rail services to and from the South West, South Wales and London Paddington. First Great Western warned travellers in advance that there will be fewer trains than usually and that these are expected to be very crowded. If travellers want to enjoy their prolonged Bank Holiday Weekend without disturbances, then coaches are a good alternative on various routes. Going from Cardiff to London, for instance, is no problem since the connected is serviced by several coach providers, including Eurolines UK, megabus and National Express. Although tickets are more in demand than usually during a strike phase, bus rides for the Bank Holiday Weekend are still available from £5.
Share this post: